Esta Lee O'Brien
Thursday, March 21, 2013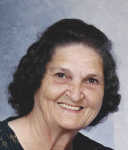 TRUMANN - Mrs. Esta Lee O'Brien, 78, of Trumann died Saturday, March 16, 2013 at Hometown Nursing Center in Trumann. She was born in Baldwyn, Miss., to the late Robert N. and Gracie May Harris Whitaker. She had lived in Trumann most of her lifetime, was a housewife and member of the Church of the Lord Jesus Christ in Trumann. Mrs. O'Brien was preceded in death by three brothers, Cordie, R.C. and Garvin Whitaker and her parents.
She is survived by her husband, James C. O'Brien of the home; one daughter, Connie Reeves (Gene) of Trumann; one son, Dewight O'Brien of Trumann; two sisters, Vera Young of Trumann and Mary Alice Brown of Harrisburg; four brothers, Robert (Eulla) Whitaker of Jonesboro, Boyce (Francis) Whitaker of Trumann, Felix (Faye) Whitaker of Brookland and Finis Whitaker of Mountain View; three grandchildren, Christy (Kevin) Pierce, Carl (Jessica) Wilson and Josh Reeves and six great-grandchildren.
Funeral services were March 19, 2013 in the chapel of Thompson Funeral Home in Trumann with Rev. Jimmy Stone officiating. Burial followed in Bolivar Cemetery in Harrisburg.
Pallbearers were Timmy Whitaker, Scott Whitaker, Tony Ragsdale, Adam Hastings, Ricky Filder, Lonnie Whitaker and Donnie Whitaker.
An online guest book can be signed at www.thompsonfuneralhome.net.