Indians downed at home
Thursday, March 21, 2013
Marked Tree (2-4) hosted Brookland in high school baseball action this past Friday. Marked Tree's bats were silent early and when they woke up it was a little to late as the Bearcats won 9-3.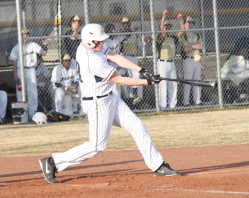 Brookland jumped out to a 2-0 lead in the top of the first and held that lead through the first three innings of the game.
Brookland took advantage of five Marked Tree errors in the top of the fourth to plate five runs to go up 7-0. Marked Tree pushed a run across in the bottom half to make it 7-1. Octavius Dean drew a one out walk and advanced to second on a single by Hunter Pitts. Tevin McGee walked to load the bases for the Indians. Pete Bell plated Dean with an RBI single. The bases were still full when the ball got past the Bearcat catcher. The ball bounced hard off the backstop allowing the catcher to get the ball and toss to the pitcher covering home who tagged Pitts who was trying to score for the third out of the inning leaving the score 7-1 Brookland.
Errors hurt the Indians again in the top of the sixth as the Bearcats scored two more runs off three errors to go up 9-1. Marked Tree got those two back in the bottom half as Connor Fields walked and came around to score on Dean's double to left center. Dean scored on a two out single by Gilbert Bailey before Brody McCrary flew out to right to end the inning with Brookland up 9-3.
Both teams got a runner to second in their half of the inning but couldn't advance them any further as the Brookland posted the 9-3 victory.
Dean led Marked Tree offensively with two hits, two runs and a RBI. Gilbert also had a hit and RBI and Fields added a run scored.
Blake Daniels took the loss on the mound for Marked Tree going four innings while giving up seven runs on eight hits. Daniels walked two and struck out three. Jacob Organ pitched the last three innings giving up two runs on one hit. Organ hit one batter, walked none and struck out two.