'Cats shutout Pocahontas behind Maxwell's effort
Thursday, March 21, 2013
Trumann hosted Pocahontas this past Tuesday in a 4A-3 conference matchup at Wildcat Field. Nathan Maxwell threw a five-hit shutout as the Wildcats posted a 6-0 victory.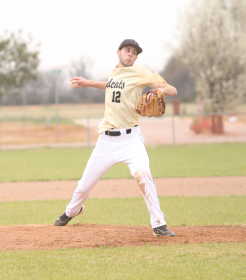 Both sides went three up and three down in the first inning. Pocahontas had a chance to get on the board in the top of the second but a Josh Evans to Jay-Ryan Woods to Justin Liles relay got the runner out at home. The third and fourth innings didn't see much offensive output.
Pocahontas looked like they might get on the board in the top of the fifth as they got runners on first and second with two outs. Pocahontas got a single to center and the runner was waved home but a perfect throw from Taylor Wilson to Cameron Jones who then threw home to Liles who tagged out the runner to end the top half of the inning. Trumann responded by putting six runs on the board in their half of the inning. Colt Collins and Wilson drew back to back walks before Jones was hit by a pitch to load the bases. Jay-Ryan Woods drove in the first run with a RBI single. Evans was hit by a pitch to bring in the second run and make it 2-0. Maxwell helped his own cause with a two-run single to make it 4-0. Evans came in to score when the ball got past the catcher on the throw home. Maxwell moved to third on the play as well and later scored on a wild pitch to make it 6-0 Wildcats.
The Redskins looked to score again in the top of the sixth as their leadoff batter doubled and went to third on a passed ball. The next batter popped out to Dillin Vincent at first. Vincent then fielded a grounder from the next batter and stepped on first. The runner had strayed off the bag at third and was trapped in a rundown. Trumann executed the rundown as Vincent tossed the ball to Jones covering home to tag the runner for the third out.
Neither team did could get anything going in their final at bats.
Maxwell led the Wildcats offensively with three hits, a run scored and two RBIs. Woods had a hit, run scored and RBI as Evans had a RBI too.
Maxwell got the win going all seven innings while giving up six hits. Maxwell walked two, hit a batter and recorded seven strikeouts.