Miss NEA Pageant is April 12-13
Friday, March 22, 2013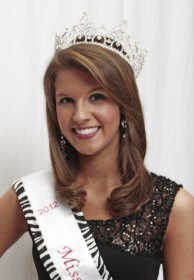 The Miss NEA Pageant will be held Friday and Saturday, April 12-13, in the Greene County Tech High School Auditorium on Highway 49 in Paragould, Ark. The current Miss NEA, Mackensie Brooke Nutt, is a senior at GCT High School and has the privilege of hosting the 2013 Miss NEA Pageant.
The Miss NEA Pageant is a pageant for all high schools in Northeast Arkansas. Each school may send the top five contestants in each Miss NEA division, plus the previous year's queen, for a total of six contestants. Application forms may be obtained by contacting the pageant director at local schools or by e-mailing Jayne Nutt at thenuttbunch@yahoo.com.
The entry fee is $40 and should be postmarked by March 25. Entries submitted after that date are $50. There are two optional categories, Most Photogenic and Best Dress, and fees are $10 for each. T-shirts can be purchased on a pre-order only basis for $20. The t-shirt order form and money should be mailed with the application form.
The pageant will begin at the following times:
*6:30 p.m. Friday--Divisions: Tiny Miss (PreK-K), Petite Miss (Grades 1-2).
*3 p.m. Saturday--Divisions: Little Miss (Grades 3-4), Young Miss (Grades 5-6), Junior Miss (Grades 7-8), Teen Miss (Grades 9-10), and Miss NEA (Grades 11-12).
The rehearsal will be held Thursday, April 11 in the auditorium. The rehearsal time for each division is listed on the pageant application form. Photos for Most Photogenic should be brought to the rehearsal.
General admission is $5 for adults and $3 for students. Programs will be available to purchase for $5. Anyone interested in purchasing an ad for the program should contact Jayne Nutt at the e-mail address listed above.