Community works to prevent closure of WHS
Friday, March 22, 2013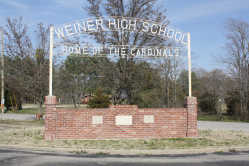 After a decision made by the State Board of Education on Monday, March 11, Weiner High School will be closing, effective July 1. This has created an uproar within the community of the small town of Weiner.
The board members voted 5-2 in favor of closing the high school, effective July 1, after a proposal was submitted by Harrisburg Superintendent Danny Sample. Sample made the suggestion because of financial difficulties the district is facing.
"It's all in the name of saving money, but it's costing money," said Michelle Cadle, a resident of Weiner and an advocate for keeping the school open. "Harrisburg's finances are out of control with or without Weiner."
Cadle has formed a support group called Friends of Weiner School District, who have worked diligently in keeping the school open since 2010 when the Weiner District was annexed into the Harrisburg District. The consolidation of the districts was decided after Weiner School District fell short eight students of the state mandated minimum enrollment of 350 two years in a row.
"It's an unjust law for an arbitrary number," said Cadle.
Since the consolidation, Friends of Weiner High School have stayed up to date on everything possible to keep their school open including two pieces of legislation that are being heard this week.
State Representatives Randy Alexander of Springdale and John Hitchison have both filed bills in an attempt to save Weiner High School.
Alexander's bill, filed March 8, would suspend the reorganization of school districts until 2015 while the Bureau of Legislative Research studies the impact of state law changes on students. The bill would be retroactive Jan. 1, voiding the Board of Education's decision to close the high school. Hutchison's bill, filed March 11, would create an Arkansas School for Agriculture for K-12 students.
Hutchison's bill has support from many of the local companies in Weiner considering most of the population in the area is farming.
"We are very hopeful for both bills, but we have other avenues to pursue if this does not work," said Greta Greeno, another strong WHS supporter.
Both Cadle and Greeno pointed out that they have no issues with Harrisburg residents or the school, they just want to maintain their identity as Weiner school district.
"We have more enrollment in AP courses, with a high rate of success among our students," said Cadle. "We feel we are doing our job to educate. There are fewer students falling through the cracks in small schools."
Cadle and Greeno are not the only ones upset by the decision, the students of Weiner High School are devastated as well.
"It's very devastating to have to change schools my senior year, when I feel I am getting the best education right where I am," said Hunter Lewis, a junior at WHS.
Lewis added that she and her fellow Cardinals succeed because of the faculty in their small school.
"Most teenagers are ready to leave high school, but I enjoy getting up in the mornings and going to school," said Lewis. "The teachers are always challenging us and teaching to fit our needs."
Myra Schwarz, a resident of Weiner and the mother of a junior at WHS, said she is opposed to anything closing the school because of its good standing.
"It's been a very emotional thing for the entire community," said Schwarz. "We appreciate everything that Michelle and Greta are doing and their hard work to keep the town alive."
Lewis, Cadle and Greeno are encouraging parents and students to not choice out until they see if the two bills pass.
"We do not want to be the exception, we want to be the first of many to stand up for their school and community," said Cadle.