Chief Henson talks crime prevention
Tuesday, March 26, 2013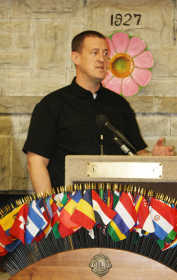 The Trumann Lions Club heard from Trumann Police Chief Chad Henson on Wednesday, March 13, about helping the police department prevent crime.
"When someone sees something suspicious, they are just brushing it off," said Henson. "I'm hearing a lot of information weeks later."
Henson mentioned several different options for tips to be submitted to the police department aside from calling the police department or emailing tips.
"I'm looking at what other departments do to get ideas, but I want what will work for Trumann," said Henson.
He mentioned Crime Stoppers, used by the Jonesboro Police Department, which is monetary based. Once a crime is reported anonymously and followed through, the police back track to the original tip and the person who provided it recieves a reward.
Most Lions who voiced their opinion openly were in favor of a third line being added at the police station for tips to be given anonymously. Henson said he would begin working on getting something set up.
"We need everyone to communicate with the police department, because next time, it might be you that becomes a victim," said the chief.
He also mentioned a new online system for residents to archive their valuables in case they are stolen. They may go to reportit.leadsonline.com to create an account. Residents may store serial numbers, item descriptions, pictures, and scans of receipts to allow for items to be easily identified in the event of a robbery.
"You can itemize and inventory everything you do not want stolen," said Henson. "Thieves will take anything to sell it."
Henson added that there is a bill currently active that will require all Pawn Shops to report their inventory in the database. Once approved, it will lead to higher solvability rates everywhere.
Recently, Chief Henson held a Crime Prevention Forum at the Old Community House to discuss what the department can do for business owners in a theft, as well as, how business owners can prevent the thief from ever breaking and entering.
Henson gave tips such as leaving lights on inside the building and in the parking lot, and emptying all cash from the register and leaving it open.
"We all need to work together to see something change," said Henson.