Indians fall in tourney opener
Thursday, March 28, 2013
Marked Tree (2-5) opened defense of its lower division title against Walnut Ridge in the Xtra Innings Classic last Thursday at Westside High School. The Bobcats, who had beaten Trumann a half hour earlier, came alive offensively as they run ruled the Indians 17-7 in five innings.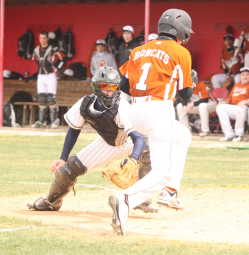 The Bobcats got to starter Brody McCrary early as they scored nine runs before McCrary was pulled after only two outs. Blake Daniels came on in relief and gave up another run to make it 10-0 Walnut Ridge after a half inning of play.
Marked Tree got on the board in the bottom of the second as Octavius Dean walked leading off. Connor Fields reached on a fielder's choice. Dean stole third and scored on a ground out by McCrary to make it 10-1 after two innings of play.
The Bobcats added three more runs in the top of third to make it 13-1. Daniels got a run back in the bottom of the inning as he smashed a solo home run to make it 13-2.
Jacob Organ came in to pitch and Walnut Ridge tacked on a couple more runs in the top half of the fifth making the score 15-2. The Indians bats came alive in the bottom of the fifth as they plated five run. Fields singled with one out and scored with Jaden Bell blasted a two-run home run to make it 15-4. McCrary followed with a double and scored on a RBI single from Daniel Rucker to cut the lead to 15-5. Hunter Pitts reached base on an error and Daniels walked to load the bases. Dylan Hunt singled just over the second baseman's reach driving in Rucker and Pitts to make it a 15-7 game.
The Bobcats scored two runs to make it 17-7 headed into the bottom of the fifth. McCrary and Rucker got back to back two-out singles before Bailey Gilbert popped out to end the game.
McCrary and Rucker both had two hits for the Indians. Bell had a hit, scored two runs and had two RBIs as Hunt also had two RBIs for Marked Tree.
McCrary took the loss for Marked Tree as he pitched 2/3 off an inning giving up nine runs on six hits while walking four. Daniels pitched 3 1/3 innings and gave up six runs on eight hits as he walked four and struck out four. Organ pitched one inning as he allowed two runs on one hit and walked one and struck out one.
The tournament was cancelled when mother nature dropped snow in the area overnight.