Trumann drops opener in Xtra Innings Classic
Thursday, March 28, 2013
Trumann and Walnut Ridge opened the Xtra Innings Classic last Thursday at Westside High School. The weather was chilly as the Wildcats lost a late lead and fell 4-2.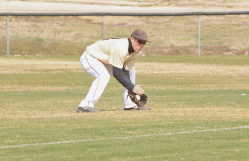 The Bobcats got on the board first as they got a run across in the top of the first inning. The Wildcats answered by plating two runs in the bottom of the inning. Taylor Wilson and Cameron Jones had back to back singles to put runners on first and second. Jay-Ryan Woods walked to load the bases. Josh Evan flew out but it wasn't deep enough to score a run. Nathan Maxwell walked to bring in the first run as Wilson scored. Jones took advantage of the Bobcats pitcher not pay attention and was half way home when the pitcher was in his wind up. Jones slid in safely at home with the rare straight steal to put the Wildcats up 2-1. Trumann left the bases loaded as the last out was made in the inning.
Walnut Ridge tied the score in the top of the third as they led off with back to back doubles to make it 2-2.
The pitchers and both defenses buckled down over the next three innings as the scored stayed tied at 2-2.
The Bobcats used a hit and Wildcat error to put the first two runners on base to start the top of the seventh inning. A sacrifice bunt moved the runners to second and third. Walnut Ridge's next batter singled in both runners to give the Bobcats a 4-2 lead. Trumann could not answer in the bottom of the seventh as they were retired in order to end the game.
Jones led the Wildcats at the plate collecting two hits, scoring a run and stealing two bases. Maxwell had a hit and an RBI and Wilson had a hit and run scored.
Woods took the tough loss for Trumann going all seven innings allowing four runs on six hits while walking two, striking out six and hitting one batter.
This was Trumann's only game of the classic as mother natured dumped snow Friday night causing the tournament to be cancelled.