Carter tosses no-hitter
Thursday, March 28, 2013
On a chilly afternoon in Lepanto, Peyton Carter was blazing pitches by the EPC batters on her way to throwing a no-hitter this past Tuesday as the Lady Indians (7-1, 3-1 2A-3) won 16-0.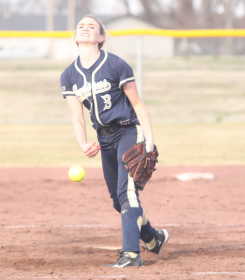 Jay Perry drew a one-out walk and stole second before coming in on Carter's single to make it 1-0 Marked Tree. Shelbi Knight reached on an error followed by Abby Beck reaching on an overthrow to first from EPC pitcher Gracie Wilson that allowed Carter and Knight to score. Brianna Francis reached base on an error and went to third as Mackenzie Nichols reached on an error that scored Beck. Nichols stole second and scored along with Francis on Madison Gilbert's single.plated Beck and Nichols to make the score 6-0.
The Lady Indians added two more runs in the top of the second as Jay Perry led off with a bunt single before stealing second base. Carter knocked in Jay Perry with a double to make it 7-0. Carter moved to third on a fly out from Knight and scored on a ground out by Kelsey Pitts to make it 8-0. Gracie Wilson drew a two-out walk in the bottom of the second for EPC's only base runner of the game.
The third inning was quiet for both teams. Marked Tree plated eight runs in the top of the fourth to make the score 16-0. Jay Perry led off with a single and stole her third base of the day to get into scoring position. Carter walked before Knight scored Jay Perry with a single to make it 9-0. Pitts reached base on an error before Beck got on via a fielder's choice that forced Carter out at home. Francis scored Knight and Pitts with a single to make it 11-0. Nichols walked to load the bases before Gilbert hit a ball in the gap that went for an inside-the-park grand slam making the score 15-0. Poohnu Perry reached base on an error and came in to score when Carter reached on an error to set the final score.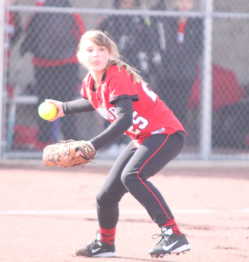 Gilbert led the Indians on the day with two hit and six RBIs. Jay Perry had two hits, scored three runs and stole three bases, Carter had two hits, two runs scored and two RBIs, Francis had two RBIs and Nichols scored three runs.
Carter faced 13 batters as she recorded 10 strikeouts on the day. Carter walked one batter.