CASA volunteers working to fill in the gaps
Friday, March 29, 2013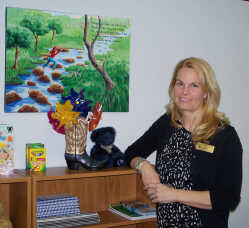 (Editor's note: This is part two of a two-part article on CASA volunteers)
Joni McNabb has been a volunteer with CASA (Court Appointed Special Advocates) since 2010. She lives in Craighead County and works with children in Poinsett County.
CASA volunteers investigate child abuse and neglect cases and serve as advocates for those children in court. "I think CASA serves to fill in gaps," McNabb said. "My job is to tell the judge the way it is, and the judge makes the decision. I can help get the ball rolling.
"Social workers are wonderful, but they might have 200 kids. Because we have a smaller number of kids, we have time to get school records and talk to their therapists," McNabb said.
McNabb became a CASA volunteer because she wanted to make sure these kids had everything her own kids had. McNabb has a blended family of eight kids, four are hers and four are her husband's, ranging in age from seven to eighteen. "We had great kids," McNabb said. "I realized early on there are things I can't control. I prayed a lot about how I can deal with that and trusted God to take care of the rest."
She began to see flyers for CASA and realized volunteering to be an advocate was a way she could help.
Advocates go through 30 hours of training, 20 of which is done at home. "With the training and ongoing training, you really do get all the information you need to do what you need to," McNabb said.
Tracy Davis, Advocate Coordinator for Craighead and Poinsett Counties, said people are sometimes intimidated at the thought of writing a court report but said CASA helps with that. They have a template for the court report, and if an advocate does not have a computer, CASA can type it up for them from either a hand-written report or dictation. "We help as much as an advocate feels they need," Davis said.
McNabb said CASA walks advocates through the process of doing their work. "Because they've had a lot more experience, they always have someone to bounce ideas off of or get suggestions from," McNabb said. "It's a little like being a detective. You're not giving an opinion. You're giving the judge what you know to be factual and what you can prove." Advocates make recommendations to the court based on their observations.
"Fortunately, a lot of things I need to do, I can do during the day when my kids are at school. There is a lot of flexibility," McNabb said.
"The thing I'm stressing is you can be an outstanding advocate in 10-15 hours a month," Davis said.
McNabb tries to treat the children she serves through CASA the same as she would her own children. "The whole point is everyone needs to know they matter. The kids have multiple social workers, and therapists change. Myself and the attorney are the only people who have constant contact with them throughout, and the attorney is swamped. They need to know there's someone who's consistent," McNabb said.
While CASA advocates do not provide services for the children they serve or show up with gifts every time they visit, they do make sure their needs are met. McNabb said children she serves will sometimes ask her for a small thing they need, like a ream of paper, because she's the constant in their lives and can make sure they get it.
For McNabb, being a CASA advocate has also given her perspective. "Personally, it keeps my own situation in perspective. As dramatic my teen drama is, it's nothing like what these kids go through. It probably helps me be a better parent," McNabb said.
CASA is currently looking for more volunteers to help serve Poinsett County. For more information on becoming an advocate, contact Advocate Recruiter/Trainer Barbara McMorries at 870-935-1099. For more information on CASA, visit casaforchildren.org, arkansascasa.org, or neacasa.org.