Trumann hires Payne as new director
Monday, April 1, 2013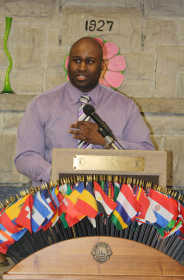 Kyle Payne was hired as the new Parks and Recreation Director for the city of Trumann, beginning on Feb. 21. Payne, originally from West Memphis, is a graduate of the University of Arkansas in Fayetteville and has worked in collegiate football since then. He spoke at the Lion's Club meeting on Wednesday, March 20.
"He just stepped right in to his position the first day, and we are glad to have him," said Barbara Lewallen, Lion's Club member.
Explaining his background to the Lions, Payne said he comes from a family of educators, which has helped drive him to be successful along the way. For the past five years, he has coached collegiate football at Northeastern State University in Oklahoma after playing for the University of Arkansas.
"I wanted to come back here to the northeastern part of Arkansas because it is where I am from and it's where I want to be," said Payne. "I am so thankful that the city of Trumann hired me as the new Parks and Recreation Director. I have already been told I have some big shoes to fill."
Payne stated the mission of the Trumann Parks and Recreation Department is to provide health, inspiration and recreation opportunities for the people of Trumann through the creation and maintenance of high quality programs, facilities and community special events.
"I want to represent Trumann to the best of my abilities," said Payne.
He added that he strives to be the best and do the best in everything, living by a simple, yet important principle: Protect your last name.
"Your last name is always going to be with you, and when people hear it, you want them to think good things," he said.
Payne announced games for the youth baseball and softball programs will begin on April 1. He looks forward to instilling new programs at the Parks and Recreation facility including possibly making use of the existing volleyball net, Frisbee teams, and marathons.
"I do not want to hinder anybody from getting up and getting active," said Payne. "I want there to be something for everybody from the youth to the elderly."
After Payne spoke of the great things to come for the Parks and Rec program, the Lion's Club announced their golf tournament will be April 20 and Senior Night will be April 29.