Ascent therapists create new sensory wall
Tuesday, April 2, 2013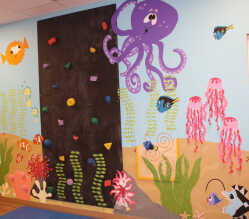 Ascent Pediatric Day Clinic has gained a new sensory wall through the hard work of a few employees. Carrie Taylor and occupational therapists Margaret Larson and Jennifer Gardner worked to create the wall with the idea that it would spice up their existing therapy room with a little more fun.
Taylor drew Ascent's ocean themed sensory wall, while Larson and Gardner worked to paint and construct the practical aspects of the scene.
A sensory wall can be very calming, allowing children to relieve stress and anxiety while focusing and planning on a variety of tasks. The main goal of a sensory input in a clinic or home is to combine motor skills and senses to create a learning environment that's stimulating.
"By providing a situation and scene as we have with the wall, we are allowing the child to visually, tactilely and physically experience and explore their bodies in order to learn how to interact with the world, therefore increasing their social and motor skills in order to participate in everyday normal life situations," said Gardner.
The sensory wall includes a rock wall in the middle to really kid the children's bodies in motion. Gardner added that this was to get their brain planning, organizing, and alerting their bodies to act accordingly. To add even more sensory and creativity to the rock wall, it can be drawn on with chalk for numbers, letters and pictures.
"The wall addresses strength, motor planning skills, color recognition, and gravitational security for our sensory kids," said Gardner.
In addition to the appealing rock wall, the rest of the sensory wall is filled with different textures and colors to be taken advantage of by children. The plants and fish have different textures, with the therapists creatively adding sand to their paint while constructing the wall. The wall even includes a jellyfish with detachable tentacles and actual starfish and seashells glued to the wall for children to get a better feel of the ocean scene.
All in all, Gardner said the scene took about two months of construction. Since then, children in the clinic have been active with the wall and using it to its best advantage, developing a number of life skills along the way.
"Our main focus is our kids getting the best of their therapy sessions, and we feel that the wall is helping with that," she said.