Thomas Weems, Sr.
Tuesday, April 2, 2013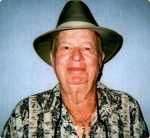 Thomas Luther Weems, Senior "T.L.", 89, of Punta Gorda, Florida, passed away peacefully at Village Place Health and Rehabilitation Center in Port Charlotte, Florida on Saturday, March 30, 2013. He was born January 29, 1924 in Lepanto, Arkansas and moved to Port Charlotte in 1984 where he owned and operated a successful scrap metal recycling business until his retirement in 2006. T.L. was a U.S. Navy Veteran of World War II and a longtime member of the Florida Elks Lodge. T.L. was a devoted husband and loving father and grandfather. He had a great passion for aviation, spending a great deal of his free time at the Punta Gorda Airport working on or flying light sport aircraft. When he wasn't in the air, he was playing the banjo or percussion in several area Dixieland style bands, including the Gulf Coast Banjo Society, which played regularly at Snook Haven in Venice, Florida. T.L. is survived by his wife Georgia Irene (Castle) Weems of Punta Gorda, FL.; his sister Nina (Weems) Seymour of Stuart, FL.; his son Damon Weems of Farmington, NM.; his daughter Carol (Weems) Darling of Winter Park, FL.; his son Thomas Dathan Weems of Phoenix, AZ.; his daughter Vickie (Weems) Lyon of Longwood, FL.; his son Thomas Luther Weems, Jr. of Port Charlotte, FL.; Nine grandchildren and three
great -grandchildren; as well as many extended family members with whom he remained close. He was preceded in death by his father Oscar Weems of Lepanto, AR.; his mother Samantha (Stotts) Weems of San Antonio, TX.; his sister Betty (Weems) Hill of San Antonio, TX; his cousin Billy Floyd Weems of West Memphis, AR. whom he loved like a brother. No services are arranged by T.L.'s request. In lieu of flowers, memorial donations may be made to Tidewell Hospice Inc., 5955 Rand Blvd., Sarasota, FL. 34238.