TNA Impact Wrestling hits Convo
Friday, April 5, 2013
The Convocation Center in Jonesboro was rocking last Thursday night as the stars from TNA Impact wrestling were there for a night of action.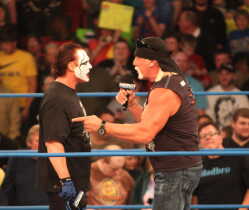 Sting, Hulk Hogan, Jeff Hardy, Kurt Angle, Bully Ray and the Aces & Eights gang were just a few of the stars that were hand for the evenings festivities.
Jeff Hardy was the first star out to talk and was jumped by the Aces & Eights gang led by Bully Ray. Hardy will face Bully Ray April 11 for the world title.
Chavo Guerrero and Fernandez were in opening match against Bad Influence. Guerrero and Fernandez were victorious with the big move being a double drop of Bad Influence from the shoulders of Fernandez.
Next up was the ladies as Taryn Terrell took on Gail Kim. Kim had Tara at ringside for the match. Tara interfered and Velvet Sky came to help Terrell out.
Sting came out and called General Hogan Hulk Hogan out to discuss Bully Ray's betrayal. Hogan finally told Sting to get out his ring and Sting answered, "Make Me." Security had to get between the wrestlers to keep them from fighting.
Hogan called the Phenomenal One AJ Styles out to the ring to talk to him about coming back to the good side and helping out. Styles has been offered a jacket to join the Aces & Eights gang. Cowboy James Storm also came out and told Styles they could either, "drink about it or fight about it." Styles left the ring without saying a word to either Hogan or Storm.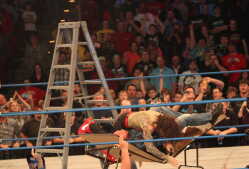 Bully Ray ended the night with a gift to his wife Brooke Hogan. He had a front row seat ticket to his world title match against Jeff Hardy for her. Hogan got mad and slapped Bully Ray causing him to want to hit her. Hardy came out and he and Bully Ray fought for a few minutes before Hardy got the better of him. Hardy pulled out a ladder and table and pounded on Bully Ray till he got him on the table and then climbed the ladder and jumped off landing on Bully Ray and the table. Hardy left the ring with Bully Ray crumpled on the table in the middle of it.