Lady 'Cats fall short against Rivercrest
Friday, April 5, 2013
The Lady Wildcats had one bad inning against Rivercrest this past Monday in Trumann and could not recover from it as they lost 6-5 to the Lady Colts.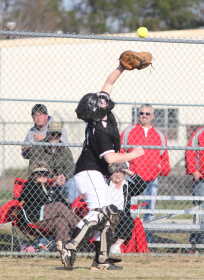 The Lady Colts opened the game by scoring a run off a Lady Wildcat error to go up 1-0. Trumann went three up and three down in the bottom half of the first. The Lady Colts threatened again in the bottom of second as they had one runner threw out at home on a Courtney Toddy to Hannah Wood to Sammie Jo Williams relay. Trumann tied the game in the bottom of the second as Hannah Walters doubled to start the inning. Walters moved to third on a wild pitch and came in to score on a fielder's choice by Julia Jones to tie the game at 1-1.
The Lady Colts plated five runs in the top of the third as they had four hits, two walks and a hit batsman to go up 6-1. Morgan Taylor got a one-out single in the bottom half before being forced out at second on a ground ball by Taelor Gartman. Williams and Kelly Guthrie had back to back singles with Gartman scoring on Guthrie's single to make the score 6-2. Rivercrest went three up three down as the Lady Wildcats left two runners on base as the score was 6-2 after four innings of play.
The Lady Colts were quiet in the top half of the fifth as Trumann cut the lead to three in the bottom half of the inning. Gartman walked before going to second on a wild pitch. Guthrie drew a walk and Walters reached on a fielder's choice that got Gartman forced out a third base. Guthrie came in to score on a single by Hicks to make it 6-3 after five innings. Rivercrest got two runners on base with one out before the Lady Cats got a pop out and fly out to get out of the inning. Sarah Halfacre drew a one-out walk and scored on a triple by Morgan Taylor to make it 6-4. Taylor scored on a wild pitch making it 6-5 Lady Colts heading into the seventh inning.
The Lady Colt threatened as they got runners to second and third on Trumann errors before Walters got a pop out to get out of trouble. Trumann had the heart of the line up coming up to bat but they were set down in order to end the game with the Lady Colts winning 6-5.
Taylor led the Wildcats at the plate with two hits, a run scored and a RBI. Guthrie had a hit, a run scored and a RBI as Hicks and Jones both had an RBI.
Walters took the loss as she pitched all seven innings giving up six runs on nine hits. Walters walked three, struck out two and hit two batters.