Wildcats hold on for win
Friday, April 5, 2013
he Trumann Wildcats hosted Forrest City this past Thursday in a non-conference baseball match up. The Wildcats jumped out to a 2-0 lead before hanging on for a 3-2 win.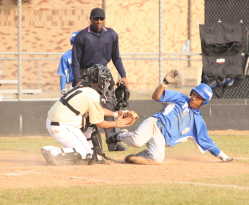 Trumann got the board first in the bottom of the first as Cameron Jones walked and stole second base. Taylor Wilson reached on an error before Nate Maxwell scored Jones with a ground out for a 1-0 Trumann lead. Josh Evan plated Wilson with a singled to make it 2-0 after one.
Forrest City pushed a run across in the top of the fourth to make it 2-1 Wildcats.
Trumann got a run in the bottom of the fourth as Cameron Jones got a two-out single and stole second to get into scoring position. Jones scored as the center fielder misplayed the ball off Wilson's bat to give the Wildcats a 3-1 lead.
Forrest City made it 3-2 in the top of the sixth as they pushed a run across. A walk and double put runners on second and third. A Forrest City single plated a run and that would be all for Cameron Jones on the mound. Maxwell came on in relief and got a strikeout and ground out to get out of the inning.
Forrest City threatened in the top of the seventh as they got two runners on base via walks. The game ended with excitement as Jones fired to Dillin Vincent at home to get the runner trying to score and tie the game for the final out preserving the Wildcats 3-2 win.
Cameron Jones led the Wildcats offensively with a hit, two runs scored and two stolen bases. Wilson had a hit and run scored as Maxwell and Evans both collected a hit and a RBI.
Cameron Jones got the win going 5 1/3 innings giving up two runs on six hits. He walked two and struck out seven. Maxwell picked up the save pitching 1 1/3 inning allowing no runs and no hits while walking three and striking out two.