Vietnam veteran reunited with medals
Friday, April 5, 2013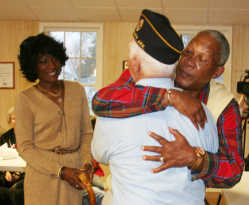 Monday night at the American Legion Hut in Lepanto, a Vietnam veteran from Memphis was reunited with medals he hasn't seen in 15 years.
Ricky Laden came into possession of the medals, a Bronze star with a V for Valor and a Purple Heart from April of 1966, after his brother found them in a delinquent mini-storage he bought four years ago. Since then, Laden has been trying to find the man they belong to or his family. He came to Mayor Steve Jernigan for help.
"We didn't even know if he was still alive," Jernigan said. They thought the owner of the medals, Don E. Williams, was from Memphis, so they went on Fox 13 News to see if anyone could get in touch with his family. Jernigan said Lepanto City Hall started receiving phone calls the next day, and they were able to track down Williams and present the medals to him during this month's American Legion meeting. Nearly 60 people showed up to meet Williams.
Williams considers himself a wordsmith but said he was having trouble finding the right words. "I just left a town where there's a Ku Klux Klan rally going on, and here we are laughing," Williams said. "All these people are hugging me. I feel loved. I feel overwhelmed. I'm just grateful. I'm humbled."
"The words I want to use pale in comparison to what these people have done for me. God is busy. God is in this," Williams said.
Williams said he was shot six times in Vietnam and lay wounded for 22 hours. "There were 220 of us, and we lost 180 troops," he said. There was so much confusion in the aftermath, his mother received a letter telling her Williams had died.
Years later, when his mother passed away, Williams was going through a period of Post Traumatic Stress Disorder. "PTSD is a lifetime journey," Williams said. "I was going through a deep, dark period." He left home and became homeless. Using his veteran's dispensation, he put his possessions, including the two medals, into storage but was eventually unable to keep up with the payments. "I didn't think I'd ever see those again," he said. In fact, he had made up his mind a couple weeks ago to get duplicates.
Williams earned a total of eight medals in Vietnam and said the two most important to him were the Bronze Star and the Purple Heart. "They cost me blood and flesh," he said.
Eventually, Williams reunited with his wife, Geraldine, and reconnected with his family and career. Now he's retired but still active in the ministry.
Before Jernigan presented Williams with his medals and their certificates, Williams saluted all the veterans in the room. "I'm reminded this is what America's about. I wish all of America could see this tonight," Williams said. "I want to say to Ricky: you've been saying since I've been here that I'm your hero. You're my hero too because you didn't have to do this. You could have thrown them away."
Coming to Lepanto, Williams felt he had come full circle and met his extended family. "My mother told me before she died, 'You'll meet people you don't know, and you better recognize them as your extended family.' I came here, and it all came full circle," Williams said. "Everybody here has treated me like family. I'm grateful to Ricky, the mayor, Ms. Judy, Dianne, and all my comrades here that embraced me and treated me like I lived here. I'll be back."