MT Churches Announce April 12 Sonny Tiger Benefit
Wednesday, April 10, 2013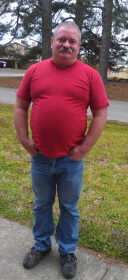 Seven Marked Tree Churches have joined forces to sponsor a Homemade Soup Supper from 11:30 a.m.-6 p.m. on Friday, April 12, to benefit the Sonny Tiger Family of the Boatrun Community south of Marked Tree.
The Soup Supper, with homemade cornbread, will be held at the Fellowship Hall of the First United Methodist Church, 304 Frisco Street, Marked Tree. Serving will be continuous from 11:30 a.m.-6 p.m. Diners can sit and eat in the Fellowship Hall or take out delicious homemade vegetable beef soup, cornbread and brownies.
Admission is $5, but any amount over $5 would be greatly appreciated for those who can afford a little extra. Or purchase as many tickets as possible. Good eating is guaranteed from some of the best cooks in Poinsett County. Homemade baked goods will also be available for purchase at the Soup Supper.
Sonny Tiger, 44, is a talented local Roofing Contractor and hard worker who, along with his family of co-workers, has generously given his time and assistance to many churches and individuals in the area in their times of need. Now Sonny is temporarily unable to work and is battling a serious, incurable blood disease, Polycythemia vera, without the benefit of any savings or health insurance. Extended treatment and further diagnoses are taking place at Little Rock's University of Arkansas Medical Center, and Sonny is staying with relatives closer to Little Rock to conserve gas and time for his many appointments at UAMS.
Sonny's friends and recipients of his past kindnesses want to show their appreciation for the family's service to the community and entire area through this and other local events. Sonny is not asking for help---his friends are--and anyone wishing to donate to the Benefit can also do so directly to the First Delta Bank's "United Methodist Church Sonny Tiger Benefit" account. The account is a non-profit, tax-exempt account thanks to the Methodist Church of Marked Tree, so any donation--however great or small---is fully tax deductible.
Please help in this loving event for a very worthy person by purchasing a ticket, attending the event or giving to the First Delta Fund. For more information, contact Betty Bradford, First Methodist Church; James Swan, First Baptist Church; Reeder Smith, Church of God; Randy Shinabery, St. Norbert's Catholic Church; all of Marked Tree; R. J. Pitts, Neiswander Baptist Church of the Northern Ohio Community; Mary or Aubrey Ratton, Trinity Baptist Church of the Boatrun Community; John Franklin, Red Oak Baptist Church of the Little River Community; Pam Fair or Bill Stanley of Marked Tree (Methodist Church.) Contact Pam Fair at 870-358-2017 anytime for more details. Assistance from any other church or group is welcome.
The Sonny Tiger Family wishes to thank everyone who is generously donating time, soup, ingredients, funds or services in this time of need. Please note that Ben Tiger and other family members are available for short, general work assignments of any kind in between taking Sonny or other family members to and from doctor appointments. Several family members have been lost to cancer or now suffer from cancer, and now the entire family may be impacted by this incurable hereditary blood disease. Please come to this April 12 Soup Supper or donate now.