Renovations begin on the Maxie Theatre
Monday, April 8, 2013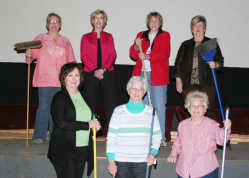 The Fine Arts Council has begun the renovations on the Maxie Theatre. They are working to get clean the place before opening it up again for shows. The future plans for the building are to show films suitable for different age groups.
"We intend to keep it the way it is within the confines of it being on the National Register," said Erin Coggins, member of the Fine Arts Council. "We want to maintain the integrity of the building." Coggins said that they want to clean up the Maxie to suit their needs.
Letha Owens, president of the Fine Arts Council, mentioned that the city has helped with their cleaning projects, as well as, volunteers in the community.
"We are working very hard on getting it ready to get it ready for the community," said Owens. "The council has begun a long procedure of cleaning and restoring the Maxie."
They are planning fundraisers to help with the Maxie, starting with a sock hop for the local community. The dance will be held on June 29 at the Sports Complex.
"We are also making plans to host a local gospel singing with people from various churches in the area to showcase some local talent," said Owens.
As usual, the council is brainstorming ideas on what will appeal to the various interest groups within Trumann. With the Maxie on its way to being renewed, they will be enabled to perform on a larger scale.
John Hurd, and Zell and Lonnie Jaynes built the Maxie Theatre in 1946. It opened on Aug. 20, 1947, with a matinee performance. At the time, the Maxie was one of the most modern, state-of-the-art theatres in northeast Arkansas. Pauline and the late Jack Noel have operated it since 1962, before donating it to the Fine Arts Council last year.
"I just wanted to give back to Trumann what they have given me for the past 53 years," said Pauline Noel. "The Fine Arts Council will have things that benefit the whole community."
Noel said that giving it to the Fine Arts Council was like giving it to the whole city.
In April 2011, it was placed on the National Register of Historic Places. According to the Arkansas Historic Preservation program, it was nominated to the National Register under Criterion C with local significance for its Art Deco design.