Literacy League looking for volunteers
Tuesday, April 9, 2013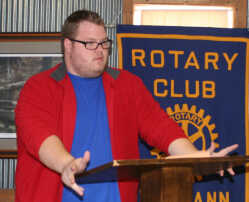 The Literacy League has recently opened an office in Trumann to service Poinsett County. Site Supervisor Seth Casey spoke with the Trumann Rotary Club last week about the Literacy League and their need for volunteers.
"There's a great need. Everyone thinks it's a good program, but we really need people to volunteer," Casey said.
All volunteers complete tutor training offered by the Literacy League and are asked to devote at least three hours a week to their students. Tutoring is one-on-one.
Casey said the Literacy League was able to expand to Poinsett County with the help of a grant from the Literacy Council. The Literacy League is located in the old ROTC building at Trumann Intermediate School.
The Literacy League's mission is to teach functionally illiterate adults to read. "They're normal people like us, but for whatever reason, they weren't able to learn to read," Casey said. "They're members of society who pay taxes and hold jobs. The only difference between them and us is they can't read. The people I've talk to are not happy. They want to be able to read to their kids or get their GED. They can't read lease or loan agreement. That's what we're trying to help with."
Casey said the program works to get adults up to a sixth grade reading level to prepare them for Adult Education. The Literacy League is also working on an English as a Second Language program. Casey said some fundraisers are coming up, but right now he is focused and getting as many volunteers as he can.
"We're a community that cares about this. We can solve this problem," he said.
For more information on tutoring services or volunteering, contact Casey at 870-530-5407, e-mail him at sethc52@gmail.com or contact Literacy League Director Dr. Phyllis Rambin at 870-910-6511. The Poinsett County Literacy League office is open 9 a.m.-2 p.m. Monday through Thursday.