Late runs cost Wildcats
Friday, April 12, 2013
Trumann hosted Brookland this past Tuesday in 4A-3 baseball action at Wildcat Field. The 'Cats took the early lead before the Bearcats battled back to take the lead. Trumann recaptured the lead only to see Brookland score two in the top of the seventh and hold on for the win.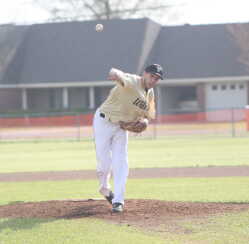 Trumann looked to score in the first inning at Cameron Jones and Taylor Wilson had back to back singles to start Trumann's half of the first. Nate Maxwell's grounder forced Wilson at second base and as Jones rounded third headed to home the Brookland throw was there as Jones was tagged out at the plate. Josh Evans had a two-out hit to put runners on the first and second but a Jay-Ryan Woods ground out ended the inning. The Wildcats did get on the board in the bottom of the second as Dillin Vincent led off with a walk and advanced to second on the a sacrifice bunt from Matthew Montgomery. Justin Liles was hit by a pitch before Trey Moody reached on a fielder's choice to load the bases. Jones followed with a fly ball that hit off the top of right field fence that brought Vincent in to score. Wilson followed with a single that plated Liles and Moody to give Trumann a 3-0 lead after two.
Brookland cut the lead to one with two runs in the top of the fourth inning as they took advantage of two Trumann errors to make it 3-2. Brookland took the lead 4-3 with two more runs in the top of the fifth inning. The Bearcats capitalized after a two-out Trumann error kept the inning alive.
The score remained the same until the Wildcats scored two in the bottom of the sixth inning to retake the lead at 5-4. Moody was hit by a pitch and went to second on a Jones walk. Moody stole third and scored when Evans reached on an error. Jones then stole third and when the catcher overthrew third Jones came in to score giving the Wildcats the lead.
Brookland used four hits in the top of the seventh to push two runs across to take a 6-5 lead into the bottom of the seventh. The 'Cats threatened as Colt Collins drew a a one-out walk and went to second on a two-out single from Moody. Both runners were stranded as Jones flew out to right to end the game.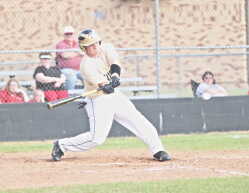 Jones, Wilson and Evans all had two hits for the Wildcats. Jones added a run scored, RBI and a stolen base. Wilson had two RBIs as Moody scored two runs and had a stolen base.
Maxwell took the loss for Trumann going all seven innings giving up six runs on eight hits while striking out three.
Brookland took the second game of the doubleheader 6-2.