Harston, EPC shut out Rector in 2A-3 conference matchup
Friday, April 12, 2013
Caleb Harston tossed a one-hit shut out as the EPC Warriors beat Rector 9-0 in 2A-3 conference baseball action at Lepanto.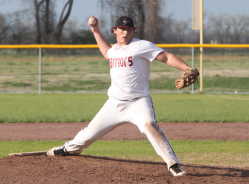 EPC got things rolling in the bottom of the first as Aaron Scaled walked, stole second and advanced to third on Clay Malone's sacrifice bunt. Harston helped his own cause with an RBI single scoring Aaron Scales to give the Warriors a 1-0. Hunter Hinton's double scored Harston making the score 2-0. Chandler Smith, pinch running for Hinton, scored on a single by Byron Scales to give the Warriors a 3-0 lead after one inning. The Warriors tacked on another run in the bottom of the second as Aaron Scales was hit by a pitch with two outs. Scales stole second and came in to score on a base hit by Malone pushing the EPC lead to 4-0 after two innings of play.
EPC made it 5-0 in the bottom of the third as Hinton was hit by a pitch. Smith came on to run for Hinton and ended up scoring on a wild pitch. The Warriors added two more runs in the bottom of the fourth to go up 7-0. Malone walked and stole second base to get in scoring position before Hinton drew a walk. Malone and Smith both moved up a base on a wild pitch and both scored when McKenzie Betts singled.
Corbin Truelove singled with one out in the bottom of the fifth and went to second on an error. Aaron Scales plated Truelove with a single and took second on the throw to home. Scales moved to third on a passed ball and scored on a ground out by Malone to make it 9-0 EPC. Rector threatened to ruin the shut out in the top of the sixth as a one-out walk and wild pitch put a runner on second. The runner advanced to third on a ground to first but was stranded as Harston fanned the next batter to end the threat.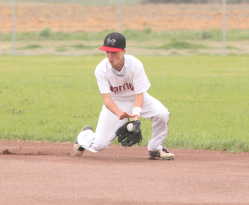 Harston struck out the side in the top of the seventh to end the game.
Aaron Scales led the EPC offense collecting two hits, scoring three runs, driving in a run and stealing two bases. Harston added a hit, run scored, RBI and stolen base, Byron Scales had two hits, a RBI and stolen base as Malone and Betts each had two RBIs.
Harston struck out 11 batters, walked one and hit one batter.