Willard inks with CRC
Friday, April 12, 2013
Bay's Hannah Willard will continue her basketball career as she signed her letter of intent to play for Crowley's Ridge College last Wednesday in front of family and friends at Bay High School.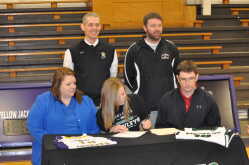 "I'm really excited that I get to play at the next level, especially right in my back yard where my parents can come watch me," Willard said. "I'll get to play with girls I've played with and against since I was in the fifth grade. I know most of the girls and playing with them is going to be great," Willard added.
Willard averaged 22.7 points per game this past season while averaging 6.8 rebounds per game. Willard finished her career with over 1,600 points scored. Willard garnered all-conference and all-state selections as a junior and senior and all-region as a senior.
Bay coach Chad LaRose had nothing but praise for his senior star. "She's meant a lot, on the court and off the court leadership. A good attitude and an all round good kid to have on your team." LaRose said CRC liked those qualities about Willard too. "They are looking to play Hannah at the 2 or 3 position so she can shoot and not have to worry about handling the ball," LaRose added.
Ouachita Baptist and Arkansas Tech both offered scholarships to Willard before she chose CRC. Asked about her visit to CRC, Willard said, "The girls there were really nice and I loved the coach (Tye Clothier). The atmosphere was a Christian atmosphere and that was really good."
Asked what memories she'd take with her from her time at Bay, Willard had nothing but good things to say. "I'll remember my teammate the most, especially this past year. They were a fun group and always had me laughing. I won't forget the great season we had either."
CRC is located in Paragould and is accredited by the Higher Learning Commission and a member of the North Central Association.