County officials give update on cities
Friday, April 12, 2013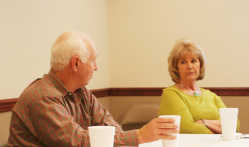 Officials at the city and county level met in Harrisburg this week for their quarterly Intergovernmental Cooperative Council meeting to give updates on how each city is doing.
For Trumann, Mayor Sheila Walters said the Maxie Theatre had been donated to the Fine Arts Council and is being cleaned and renovated. The city will sign a contract next week with Gillis, Inc., who will construct a 16 acre detention pond near Mulberry Drive. The detention pond will prevent flooding in the area and is being paid for with a $789,000 grant.
Walters also mentioned several new businesses in Trumann, including a bake shop, flea market, dog grooming business, salons, an auction, and a mobile massage business.
Lepanto Mayor Steve Jernigan said his city is looking at replacing 13,000 feet of galvanized water lines. A public meeting is scheduled for 6 p.m. April 16 to discuss how the city wants to pay for the million dollar loan required for the job. Jernigan said the water lines date back to the 1920s and 1930s.
In Tyronza, Mayor Marion Bearden said several old buildings in town are going to be restored. A cafe is going into the old grocery store, and one of the churches will repair the Tyronza Supply building, keeping the facade, and will use it as a center for church activities. The final inspection has been completed on the Tyronza Senior Center, which should have a grand opening in near future.
With the closing of Weiner High School, Harrisburg Mayor Randy Mills said a new subdivision is being built which could house some families coming over from Weiner. He said construction has started on Harrisburg Veterans Memorial Park, which will have a gazebo, picnic area, memorial pavers in honor of deceased foreign war veterans, and a mural. Mills said he would also like to have a community Christmas tree for the area.
Regarding downtown Harrisburg, Mills said all the buildings on the North and West side of the square have new owners who will be refurbishing and restoring them. The city has started a 501(c)(3) group to get preservation funds to help restore downtown Harrisburg. One of the buildings being restored is the old theater, which will have a outdoor Movies in the Park event in the future to raise donations for restoration.
At the county level, County Judge Charles Nix said the Smart911 system does not have enough bandwidth in certain places and is being upgraded. He said there are no major construction projects this year, but his biggest concern countywide is updating old bridges. The bridges are a potential project for next year if there is additional money left over from sales tax being collected.