Marked Tree Students hold rally
Sunday, April 14, 2013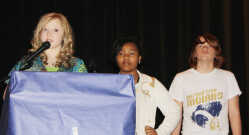 The eighth-grade class of Marked Tree High School held a Student-Voice Rally at the Marked Tree High School Auditorium on Friday, April 6, in hopes of changing a few school policies with an active student government. About 90 teachers, parents, and community members were present to learn more about the demands of the students and show their support.
Many booths were set up throughout the auditorium demonstrating the various elements in government including public relations, qualifications of representatives, and the initial election process. At each booth, an eighth-grade student worked to inform everyone that approached of his or her intentions by presenting written manifestos.
The informative students each had something important to say in relation to how their school is currently operated versus their opinion about the operation and their recommendations.
"The goal is not to overthrow the school board," said Elizabeth Newton, MTHS social studies teacher. "The goal is to get a clear way to get the school board to hear the students through an active student council."
Vice President Mike Dabney was present to represent the Marked Tree School Board and voiced his own opinions on the actions of the eighth-graders. He began his speech by informing the audience of the general political process and how input from citizens is crucial for a smooth running government.
"We are always happy to hear student's input on how things are going or how they are not going," said Dabney. "I think it's a great start, and it's good that they are interested in being involved in their own educational process."
Dabney was very impressed with the knowledge on government that the eighth grade students demonstrated at the booths.
"The students are my boss," he added. "The first question when presented with a voting issue at board meetings is whether or not it's what is best for the students of Marked Tree schools, because that is what we've been entrusted to do."
After hearing positive feedback from Dabney and Jim Mayers, English teacher for MTHS representing High School Principal Matt Wright, the rally ended with student speakers giving speeches on government and what it means to them to be heard as students and citizens of Marked Tree.
"Marked Tree High School has developed a motto that states that their students are given trust, respect, and responsibility; however, those values aren't enforced," said eighth-grade student Kassi Loyd.
The rally began initially in the eighth-grade integrated classroom of Newton and Mayers who assigned projects for students to learn more about the way government in general works. After learning about the topic at a historic and nationwide level, the teachers asked the students how their own town governs them.
The students began to think about the student government their school votes on, that is currently very inactive. The eighth-graders want to see that an active student council is in place to voice their concerns on various issues.
"We do not want to necessarily see all the rules change," said eighth-grader Dakota Neal. "We want to bend them and enforce them more."