Alphia Brooks
Monday, April 15, 2013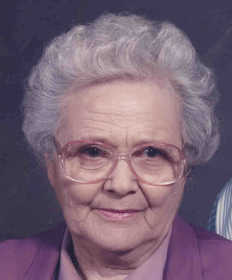 TRUMANN - Mrs. Alphia Mae Brooks, 90 of Trumann, entered into the arms of Jesus on Thursday, April 4, 2013 at St. Bernard's Medical Center in Jonesboro, Ark. She was born in Trumann to the late Arthur Brooks and Dottie Henderson Presley and had a lived her lifetime in Trumann. Mrs. Brooks was a homemaker and a member of Central Community Church. She was preceded in death by one grandson, Chad Brooks Benson; two sisters, four brothers.
She is survived by her husband, Lowell Lee Brooks of the home; two daughters, Betty Benson and husband Paul of Memphis, Tenn., and Debra Fowler of Little Rock, Ark.; one sister, Margaret Jewell Sharp of Jonesboro; two grandchildren, Michelle Fowler and Melanie Hotchkiss and one great-grandson, Everett Hotchkiss.
Funeral services were April 8, 2013 in the chapel of Thompson Funeral Home with Bro. Milton Cowling officiating. Burial followed in Jonesboro Memorial Park Cemetery in Jonesboro, Ark.
Pallbearers were Terry Joe Osment, Jason Osment, Kim Osment, Terry Fowler, Nathan Hotchkiss and Ronnie Benson
Honorary pallbearers were Lance Sharp and Ronnie Everhart.
An online register book can be signed www.thompsonfuneralhome.net