Mary Parrish
Monday, April 15, 2013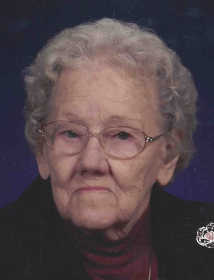 TRUMANN - Mrs. Mary Wylma Parrish, 94, of Trumann, died Thursday, April 4, 2013 at her home in Trumann. She was born in Lunsford, Ark., to the late Charles and Della Burgus Payne and had lived most of her lifetime in Trumann. Mrs. Parrish was a homemaker, a member of EHC Ladies Club, Girl Scout Leader, Secretary at Maple Grove Baptist Church and an original charter member of Maple Grove Baptist Church. She was a loving wife and mother and loved her grandchildren, great-grandchildren and her cats.
She was preceded in death by her husband Mr. George Parrish of 55 years, one grandson, Stash Anthony Parrish, five brothers, R.B. Payne, Sherman Payne, Charles Edgar Payne, Lanoy Payne and Vanoy Payne; four sisters Opal Payne Whitfield, Jewell Payne Bonds, Inez Payne Clay and her infant baby sister and her parents.
She is survived by one daughter, Kathy Parrish Collins Trumann; one son, Tony (Diane) Parrish of Tontitown, Ark.; nine grandchildren B.J. (Melissa) Parrish and Benji (Heather) Parrish, Corey (Lauren) Emerson, Justin Klinger, Levi Klinger, Jason (Jennifer) Collins, Christopher Kelly, Tiffany Klinger, Nikkole Klinger, 15 great-grandchildren and several nieces and nephews. Funeral services were April 7, 2013 at Maple Grove Baptist Church, with Rev. Jimmy Mauldin officiating. Burial followed in Mt. Pisgah Cemetery near Jonesboro, Ark. under the direction of Thompson Funeral Home in Trumann.
Pallbearers were Corey Emerson, Justin Klinger, Levi Klinger, Jason Collins, B.J. Parrish and C.J. Parrish. Honorary pallbearers were Deacons of Maple Grove Baptist Church and her nephews.
An online register book can be signed at www.thompsonfuneralhome.net