Thompson inducted into Hall of Fame
Thursday, April 18, 2013
William "Freezer" Thompson of Trumann was inducted into the ASWF wrestling Hall of Fame on April 6 in ceremonies held in Tuckerman.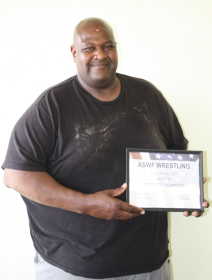 Thompson started wrestling in 1979 right out of high school. Trained by David and Don Oswald, Thompson has travelled all over the south wrestling for the last 34 years. Thompson was on Saturday morning wrestling a few times being broadcast from Memphis.
Thompson remembers his first match being at Jonesboro High School. Not recalling who is partner was, the opponents that night were the Nightmares. Thompson said, "I enjoyed all the matches I had but my favorites had to be the ones with the Moondogs. Jerry Lawler, Bill Dundee and Tommy Rich were good matches too," Thompson said.
Ricky Rowland of Tuckerman had the honor of inducting Thompson in the hall.
Congratulations Freezer!