Big innings lift Lady 'Cats
Thursday, April 18, 2013
Trumann's Lady Wildcats hosted Pocahontas this past Monday in a 4A-3 softball match up. Trumann jumped out to an early 2-1 lead then used back to back big innings to put the game out of reach.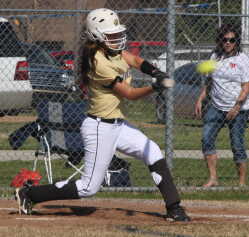 Two Trumann errors put runners on first and second for the Lady Redskins with one out before Hannah Walters struck out the next two batters to leave them stranded. Taelor Gartman reached base on an error, stole second and scored on a throwing error to give Trumann a 1-0 lead. Kelly Guthrie followed with a triple and scored on a ground out by Macy Hicks to make it 2-0. Pocahontas took advantage a Trumann error in the top of the second and scored a run to make it 2-1. Trumann loaded the bases with two outs but left them full when Guthrie flew out to left to end the inning.
Walters retired the side in order in the top of third for Trumann. Hicks walked to start Trumann's next at bat. Hicks stole second before Sammie Jo Williams drew a walk and was replaced by pinch runner Megan McGowan. Both runners advanced on a pass on a passed ball before Hicks scored on a wild pitch to make it 3-1 Lady 'Cats. Julia Jones walked before McGowan scored as Hannah Wood reached on an error. Sarah Halfacre was hit by a pitch to load the bases as Morgan Taylor drew a walk to plate Jones to make it 5-1 after three. Walters again retired the side in order in the top of the fourth and Trumann sent 10 batters to plate scoring four times to go up 9-1. Guthrie doubled and Hicks walked to start the bottom half of the inning. Williams reached on fielder's choice as Guthrie was forced out at third. Jones walked to load the bases before Wood delivered a two-run single scoring Hicks and McGowan. Halfacre was hit by a pitch again loading bases and back to back walks to Taylor and Walters plated Jones and McGowan.
Trumann added a run in the bottom of the fifth as Hicks singled and went to second when the ball got by the fielder when it was thrown back in. Hicks scored on a Jones single to make the score 10-1 after five innings. The Lady 'Cats tacked on a run in the bottom of the sixth to end the game via the run rule. Walters walked to open the inning and came around to score the winner after Gartman bunted and the catcher overthrew first and the ball went into the outfield.
Guthrie had two hits and a run scored, Hicks collected a hit, scored three times, had one RBI and stole a base, Jones and McGowan both scored twice as Wood and Taylor both had two RBIs on the day.
Walters got the win going all five innings allowing one run on two hits. She walked one and struck out five.