Trumann clipped by Lions
Thursday, April 18, 2013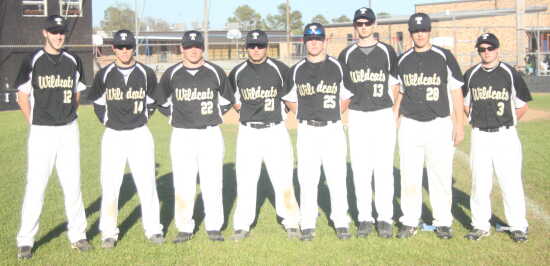 Trumann hosted the Manila Lions this past Friday for Senior Night at Wildcat Field. Nate Maxwell, Cameron Jones, Jay-Ryan Woods, Ashton Jones, Josh Evans, Dillin Vincent, Colt Collins and Matthew Montgomery played their last home high school baseball game. Manila played spoilers as they came away with a 3-1 win.
The first couple innings were relatively quiet with Trumann using a walk and error to put runners on first and third. Ashton Jones was caught looking for the third out to end the inning.
Manila broke through in the top of the third and scored two runs off a two-out hit and a Wildcat error. Trumann got one run back in the bottom half as Cameron Jones was hit by a pitch before stealing second base. Jones went to third on a passed and scored on fielder's choice bunt by Taylor Wilson.
Both teams went three up and three down in the fourth inning.
Manila tacked on another run in the top of fifth inning as the leadoff batter was hit by a pitch and ended up scoring on a ground out. Trumann got a leadoff double from Ashton Jones who then advanced to third on a bad throw. Jones was stranded at third at Cameron Jones flew out before Wilson and Maxwell both grounded out. Maxwell came on to pitch in the top of the sixth and retired the side in order. Trumann again had a chance to score a run in the bottom half as Evans reached on an error and went to second after Vincent was hit by a pitch. Montgomery and Collins both struck out to end the inning.
Cameron Jones pitched the final inning giving up a two-out walk before inducing a ground out for the final out. Ashton Jones was hit by a pitch as Justin Liles came on to pinch run. Liles stole second but was left stranded as Cameron Jones flied out, Wilson grounded out and Maxwell struck out to end the game.
Cameron Jones led Trumann offensively with a hit, run and a stolen base. Ashton Jones also had a hit as Wilson had a RBI.
Woods went five innings and was tagged with the loss. He gave up five hits, struck out two and hit two batters. Maxwell gave up no hits and struck out one as Jones gave up no hits while walking one and striking out one.