Oliver signs with Philander Smith
Thursday, April 18, 2013
Tyson Oliver put his name on the dotted line and made it official to continue his career playing basketball as the two-time all-state standout signed with Philander Smith this past Monday at Bay High School.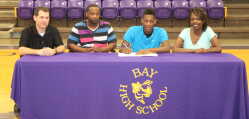 Coach Sam Weaver of Philander Smith said he got a call from long time coach Benny Harris and was told he might want to take a look at Oliver. Weaver did just that when the Yellowjackets played for the state title in Little Rock earlier this year.
"He kept the team under control. I like the way he plays the game, it fits our game style. He has good size and should see playing time immediately for our team," Weaver said.
Oliver said he had a great trip down to visit the college. "I went down and scrimmaged with the guys and liked the way they played. They welcomed me in and it felt good," Oliver said.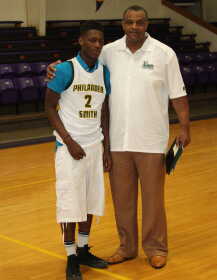 Oliver led Bay in scoring this past season averaging 16 points a game. He averaged seven rebounds and four assists per game too. Bay coach Brad Brannen had nothing but praise for Oliver. "He's been a leader for us for three years and that will be missed. He was first or second in every stat category for us this past season, that will be hard to replace," Brannen said.
Oliver said he's glad to be going to an established program. Asked what he'll remember most from his high school career, Oliver smiled, "Two state championships!"