Community comes together for Sonny Tiger
Friday, April 19, 2013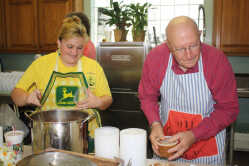 Six Marked Tree Churches came together for a Homemade Soup Supper at the local First United Methodist Church on Friday, April 12, to help local Sonny Tiger who is suffering from Polycythemia Vera, a bone marrow disorder that causes red blood cells to overly produce.
"It originally began about eight weeks ago at Bill Stanley's nondenominational men's Bible study," said Pam Fair, a member of First United Methodist Church in Marked Tree.
Stanley, a member of the same church, said his Bible study has five different men from five different churches.
"We just started talking and we wanted us to all work together for the same cause," said Stanley.
Tiger, 44, and his family are from the Boatrun Community south of Marked Tree. He has worked for much of the community as a Roofing Contractor, and many at the benefit said most of his work was charity. He generously gave his time and assistance in whatever way he could to many churches and individuals in the area in their time of need.
Many of the local residents present at the benefit had stories to tell about how Tiger and his family helped them with a roofing job or other odd jobs around the house and yard.
"The same stories resonate over and over and over in the community. He and his family are a group of individuals that worked hard and never gave you a bill," said Fair. "You had to force them."
Mary Ratton, a very close friend to Tiger, described him as being a kind, caring, and humble person.
"The hardest part of all of this is actually getting Sonny to agree to take our help," said Ratton. Tiger was not the one to ask for help--his friends were.
By 11:30 p.m. on Friday, right when the supper started, community members began pouring in the dining area of the church. Many not only paid for their meal, but also donated above and beyond. Fair said they asked for a little, but gained a lot.
"Ticket sales were wonderful and people's response in preparing food and making donations was absolutely amazing," said Betty Bradford, member of the Methodist church.
"It was successful beyond my expectations," said Fair. "Lepanto, the Boatrun Community, Little River Community, Marked Tree, and just from everywhere local, we have received some sort of assistance."
Tiger and his family are very grateful for the generosity of the community. Unfortunately, he was unable to make it to the benefit. Extended treatment and further diagnoses are taking place at Little Rock's University of Arkansas Medical Center, and Tiger is staying with relatives closer to Little Rock to conserve gas and time for his many appointments at UAMS. However, they do appreciate the work done by everyone involved.
"I believe it's one of the best things to happen in our community in a long time, because we have so many working together for one endeavor," said Stanley.