Lion's Club hears from Action Medical Supply
Monday, April 22, 2013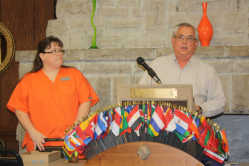 Wayne Wiley and Sarah Harbison, from Action Medical Supply in Trumann, spoke for the Trumann Lion's Club this past week. Both informed the Lions about their supplies, for sleeping to mobility.
"Our goal as a company is to meet the needs of Trumann, Lepanto, Marked Tree, Harrisburg, and other surrounding areas," said Wiley.
He began listing what Action Medical Supply offers including respiratory, bathroom safety, mobility aids, adjustable beds, and diabetic supplies. He added that they were very strong in the respiratory field, but they only give out those supplies per prescription.
"We go as far as calling the doctor for you when it comes to helping you get what you need," said Harbison.
Harbison also added that they provide an extensive line of diabetic supplies. They stock a variety of blood sugar monitors and strips, while also carrying custom made shoes designed to meet diabetic's needs.
In the case of an unexpected fall or arthritis, Action Medical stocks mobility aids. Wiley said they have manual and power devices. They also supply braces for various injuries.
"We strive to provide a quality product, back it up with good service and meet the real need of the patient," said Wiley.
Action Medical takes Medicare, Medicaid and other private insurances for their clients.
Betty Payne also reminded the Lions that they would soon be awarding their two $1,000 scholarships and three $500 scholarships. The golf tournament that helps fund these scholarships will be held on April 20.