Lewallen talks Trumann economy at Rotary
Tuesday, April 23, 2013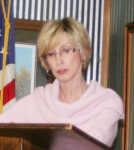 Chamber Executive Barbara Lewallen with the Trumann Chamber of Commerce was guest speaker at the Trumann Rotary Club recently. She spoke to the club about the economy in Trumann from the perspective of what's right with the city.
"The truth of the matter is, all the communities in our area have the same problems. Even Jonesboro. We're not unique. We do have issues. The thing that's important is: what are we doing about those problems?" Lewallen said.
Lewallen went over a list of major businesses in Trumann, noting that the town was built around the Singer Plant, which employed 2,500 people at one time. She said everyone thought when the plant left, that would be the end of Trumann, but a lot of the city's mayors worked to bring in more industries.
She also talked about Trumann Public Schools, one of the city's largest employers with 250 employees, and one of the the oldest. "The high school's 1:1 technology program is so unique, our administrators are being asked to go everywhere to tell other schools how they've done it. They're also moving toward project-based learning. The whole program is the envy of many other schools," she said.
Among different businesses in the city, Lewallen said Trumann has the only paid Fire Department in Poinsett County. She said unemployment is at 8.3%, public housing is well over 50% seniors and disabled, and revenues were up in 2012 and 2013.
Regarding city projects, Gillis construction has been contracted to dig the detention pond near Mulberry Drive, and Lewallen is meeting soon with an architect to design the new Adult Education building.
"We're going to work on making things better," Lewallen said. "Overall, we're pretty optimistic about the community. Anything that is going to help the Delta region, we're part of it."