Buchanan inks with Ouachita Baptist
Thursday, April 25, 2013
Allen Buchanan signed his letter of intent last Wednesday in front of family and friends it the auditorium at Marked Tree High School. Buchanan had fulfilled a lifelong dream.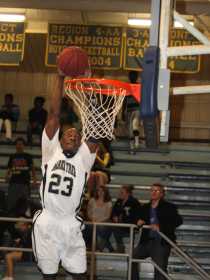 "It's great! It's like a dream come true," Buchanan said after signing.
Blessed with a 41-inch vertical leap, Buchanan threw down a many dunks this past season for the Indians. Buchanan helped lead Marked Tree to a 24-12 record and into the state basketball tournament.
Buchanan was considering Williams Baptist and a couple junior colleges, but when he visited OBU, he knew it was the place. "When I went down there, I just knew it was for me."
Marked Tree coach Barbara Wilburn had this to say about Buchanan, "They are getting a very explosive and quick player. He has a good work ethic and I think Ouachita Baptist will be happy and excited with him."
Buchanan recently played in the Sun Classic in Jonesboro and scored 18 points including a pair of alley-oop dunks. Buchanan will next play in his final high school game as he will be a member of the East team at the 58th annual Arkansas High School Coaches Association All-Star basketball game to be held June 20th at the Farris Center on the campus of the University of Central Arkansas in Conway.