Perry to play for UAM
Thursday, April 25, 2013
Poohnu Perry signed her letter of intent to play basketball for the Cotton Blossoms at the University of Arkansas-Monticello in front of family and friends at Marked Tree High School last Wednesday.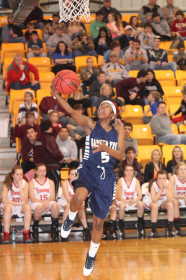 Perry said she's happy the wait is over. "I'm blessed to able to continue by basketball career. I knew if I put God first, all would be okay. It feels great!," Perry said.
Perry was a two-time all-state performer from her guard position. She led the Lady Indians to a 21-7 this past season. Perry averaged 17 points, six rebounds and four assists a game.
Perry chose UAM over other schools due to it being closer to home. "It's close to home and I've had members of my family who have gone to school there. I loved the whole experience while I was there visiting," Perry said.
Marked Tree coach Derik Drewett knew from the first time he saw Perry with a basketball that she was special. "I knew she would be able to go places. UAM will be pleased with what they get. Poohnu is a model student and athlete who comes from a wonderful family," Drewett said.
There were three Perry girls on the team this year and four last year. Sister Jay and cousin Lexi were on this year's team while cousin Quanny joined them on last year's team.
When asked if basketball runs in the family, "Yeah, on both sides of the family," Perry said.