Cardinals shut out Bay
Thursday, April 25, 2013
The wind was in the favor of the batters last Wednesday in Weiner but that didn't bother Grant Johnson. Johnson gave up two hits and struck out 10 batters as the Cardinals (8-6, 6-6 1A-3 East) beat Bay 6-0 in high school baseball action.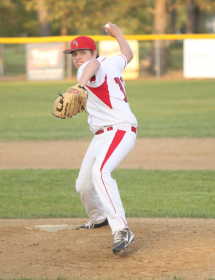 Zack Johnson singled for Bay to lead off the game and went to second on a passed ball. Johnson was left stranded there as Grant Johnson struck out the next two batters and got a fly out for the third out. Logan Bray walked to start the bottom half of the first and advanced to second on a balk by Bay pitcher Nathan Smith. Bray then went to third on a wild pitch before Grant Johnson walked and was replaced by pinch runner Burl Tate. Jake Martin came in to pitch for Bay. Tate was caught trying to take second but that allowed to Bray to score and give Weiner a 1-0 lead. A Morgan Stewart walk was followed by back to back singles by Avery Bice and Alex Nicholson. Nicholson's hit drove in pinch runner Bairek Bush. Bice scored on a throwing error by the Bay catcher to make it 3-0. Jake Martin reached base on an error to start Bay's second inning and stole second base. Martin was also stranded as Grant Johnson struck out the next three batters. The Cardinals added another run in the bottom of the inning as Drake Melton singled and came around to score on Grant Johnson's RBI single to make it 4-0.
Johnson made it five strikeouts in a row as he retired the side in the top of the third. Johnson ran the streak to six before Kail Harris reached on an error. Martin singled and then took second to put runners on second and third. Johnson struck out the next two end the Bay threat. Wesley Creasey walked and stole second in the bottom to get in scoring position for Weiner. Bray followed with a two-run home run to left to make it 6-0 Cardinals. Corey Seehaver came on to pitch the fifth and retired the side in order to give Weiner the 6-0 victory.
Bray led the Cardinals on offense with two hits, two runs and two RBIs. Johnson and Nicholson both had a hit and RBI. Nicholson and Creasey had a stolen base each.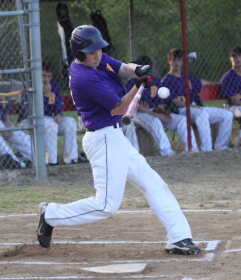 Zack Johnson and Martin both had a hit for Bay as Martin added a stolen base.
Grant Johnson got the win for Weiner going four innings giving up two hits, striking out 10 and walking none. Seehaver pitched one inning allowing no hits and no walks.
Nathan Smith took the loss for Bay as he pitched to two batters, walking both, and gave up one run. Martin came in in relief and gave up five runs on six hits. He walked three, struck out six and hit one batter.
Bay (6-8, 5-5 1A-3 East) took the second game of the doubleheader as Harris got the win. Zack Johnson had two hits and a RBI for the Yellowjackets.
Grant Johnson started the second game too and struck out six while giving up one hit in four innings of work.
Johnson also had two hits and a RBI for Weiner. Bray added a hit and scored a run as Nicholson had a hit too.