Malone no-hits Bay
Thursday, April 25, 2013
Jaden Malone tossed a three inning no-hitter for Weiner (6-4, 6-4 1A-3 East) this past Monday as the Lady Cardinals downed Bay (0-6, 0-6) 15-0 in high school softball action in Weiner.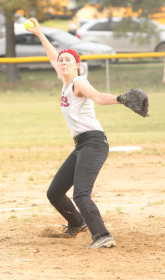 Malone struck out three in the top of the first around a walk to Jade Presley. Presley advanced to second on a wild pitch but was left stranded there. Weiner sent 11 batters to the plate against Bay pitcher Brittany Roedel and scored five times. Kaci Mack, Peyton Craft, Allegra Melton and Lexi Smith all had a RBI in the inning as Weiner was up 5-0 after one.
Malone retired the first two Lady 'Jackets in the top of the second before Courtney Stanley reached on an error. Ashlynn Warren was hit by a Malone pitch to put runners on first and second. Stanley delayed running on a passed by and was thrown out by Mack at third base to end the threat. Weiner used another big inning sending 13 batters to the plate and scoring nine runs. The big hit of the innings was a two-out two run triple by Malone. Weiner was up 14-0 after two innings.
Malone fanned the first two batters of the third before Presley drew a base on balls. A ground out by Raven Francomano ended the inning for Bay. Weiner loaded the bases with out in the bottom of the third and got the winning run a single by Mack that scored Lacey Raby to end the game via the run rule.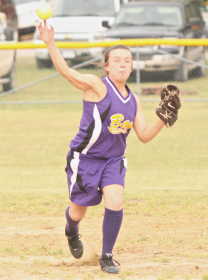 Craft led Weiner on the day with two hits, three runs scored, a RBI and three stolen bases. Smith, Mack, Malone, Lewis and Raby all scored twice. Mack had two RBIs and Malone stole two bases.
Malone walked two and struck out six in the win.
Roedel gave up 15 runs on five hits for Bay. She walked nine batters.