Trumann Drama Club to perform Cinderella
Friday, April 26, 2013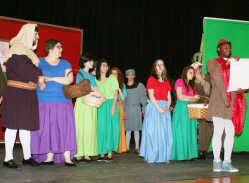 This weekend, Trumann High School students and faculty will perform Rodgers and Hammerstein's Cinderella as the school's Spring musical.
The play is directed by Gay Jackson. Jackson came out of retirement to teach part-time this year at THS. "The kids wanted to do a musical," Jackson said. "Most of them thought it would be fun."
This play is an all school production, with 11 faculty members making up the cast. Jackson said there were not enough students to play all the parts for the large crowd scenes, so several faculty members are in the play, mainly as townspeople who make up the chorus.
"The faculty is pretty enthusiastic. It adds a whole new element. The play takes place in a village, and this gives it a village look with different sizes, body types, and ages. There's a well-rounded appearance as far as the population of the town is concerned," Jackson said. "Everyone is enjoying it. Everyone at the school has been really supportive."
The 12 principal roles are all played by students. The play will be performed at 7 p.m. Friday, April 26, and Saturday, April 27, in the Trumann High School Auditorium. Admission is $5 at the door.
The principal cast includes: Kelsey DeFord as Cinderella, Colton Mann as the Prince, Dustin Hanna as the King, Tristan Phillips as the Queen, Keragan Nance as the Stepmother, Michaela Maxwell as Portia, Amber Jenson as Joy, Kaitlyn DeFord as the Godmother, Jesse Buchanan as the Herald, Ronnie Brady as the Chef, Chris Gladding as the Steward, Grant Greenwell as the Coachman, Mr. Jerry Greenwell as the Footman, and Mr. Aaron Hall as the Minister.
Other castmembers include Deven Parrish, Felicia Harvey, Jamie Renshaw, Payte Horst, Julian Hayes, Skylar Hamilton, Charlie Kemp, Ms. Heather McNamee, Mrs. Ashley Ziegler, Mrs. Dru Fergerson, Mrs. Shannon Bruner, Mrs. Wanda Van Dyke, Mr. Rick Van Dyke, Mr. Matt Ziegler, Mr. Justin Vinson, and Mr. Adam Clairday.
The vocal director is Ms. Keri Rickman, and the instrumental director is Ms. Sheila Stephan.