Granny Clay to hold tasting party
Friday, April 26, 2013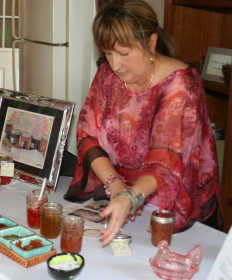 Regina Clay of Marked Tree will be hosting Granny Clay's Tasting Party from 2 p.m. to 5 p.m. on Saturday, April 27.
The event will have seven vendors including Sassy Sewing Girls, Embroidering by Bonnie Thompson, Pampered Chef by Spencer Murphy, Duck Calls by Adam Lowery, Suzie Walker Gardner's Chow-Chow and more, Marked Tree High School Cheerleaders Bake Sale, and Granny Clay's pepper jelly, tomato jam, and chocolate gravy mix.
All are local small businesses in the Delta. Many will be demonstrating various quality homemade products.
Clay is member of the Arkansas DeltaMade program and owns her own business, Granny Clay's Kitchen. The Arkansas DeltaMade program gives Arkansas craftsmen a market for their work and was created by the Rural Heritage Development Initiative.
"I'm holding the tasting party to promote small businesses in the Arkansas Delta," said Clay.
This is Clay's second year hosting a tasting party with 75-100 people attending last year's event. This year, the theme will be old country. She plans to have farm animals at the party including a rabbit, a pig, and chickens.
Granny Clay's is located in Marked Tree on Wray Lane. To get there from the Payneway exit, take Highway 14 West, go one mile, and turn left on Wray Lane. There will be a white and green yard sign with Granny Clay's and a directional arrow at the turn on Wray Lane.