Elder Outreach receives Philanthropy Award
Monday, April 29, 2013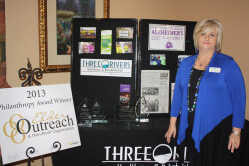 Elder Outreach, a nonprofit organization that operates Three Rivers Health and Rehabilitation in Marked Tree, won the 2013 Philanthropy Award for their outstanding work and contributions to the research of Alzheimer's.
According to their website, Elder Outreach has a core mission to provide healthcare that is well beyond ordinary to those in need of long-term and short-term rehab. Elder Outreach has multiple home operations in Arkansas and Louisiana. The company's major platform is Alzheimer's awareness and finding a cure.
Elder Outreach was the presenting sponsor for the 2012 Walk to End Alzheimer's in Little Rock and Jonesboro. Sherry Pearce, the Community Outreach and Admissions Coordinator for Three Rivers, was the chairperson for the Jonesboro walk and plans to hold the position again at the upcoming September walk.
"Alzheimer's is the sixth leading cause of death with 63,000 Arkansans who are diagnosed with Alzheimer's right now," said Pearce.
Pearce has personally done her own share of work with Alzheimer's with the help of Elder Outreach. She has formed support groups in Marked Tree for the cause, while staying involved at a national level with the research. Her support groups meet once a month to learn coping strategies and how to be a caregiver of an Alzheimer's patient.
Her involvement on the statewide and national level is as an ambassador for the first congressional district. Her job as ambassador is to report all Alzheimer's activity to Congressman Rick Crawford.
This week, Pearce will be returning from a trip to Washington, D.C., where she went to the 2013 Alzheimer's Advocacy Forum to become even more involved in research and planning as an advocate for the disease.
"Without the help of Elder Outreach and Three Rivers, I wouldn't be able to do all of this," said Pearce. "I'm very blessed to have a company that supports me in all that I am doing with Alzheimer's, and they push me to do even better."
David Brazile, Three Rivers' Administrator, said Elder Outreach is committed to fundraising and providing education for Alzheimer's. According to their website, Elder Outreach is currently facilitating a joint clinical study between two healthcare partners to study brain aging in the elderly. The study will help with early detection signs of Alzheimer's in the individuals participating, while providing important information on the normal aging of the brain.
"I'm very proud of our company overall because of the work that is being put into Alzheimer's education and research," said Brazile.