Marked Tree board recognizes students
Sunday, April 28, 2013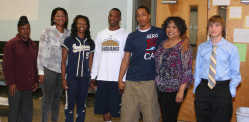 The Marked Tree School Board recognized four students with impressive achievements this week. Three of the students received scholarships. Allen Buchanan received a scholarship to play basketball at Ouachita Baptist University, Darius Ivy received a football scholarship at Missouri State University, and Alytrius Perry received a scholarship to go to University of Arkansas at Monticello.
Brayden Smith was selected as one of 72 students in the world to participate in the Summer Science Program (SSP) at the New Mexico Institute of Mining and Technology. The six week program gives students the opportunity to learn college-level astronomy, physics, calculus, and programming from guest lecturers by day. By night, students will use telescopes to study the positions and calculate orbits of near-Earth asteroids. Among the sponsors of the program are Westmont College, California Institute of Technology, Massachussetts Institute of Technology, and Lockheed Martin.
The board also heard from Sergeant Donald Perry regarding the Community Service Club's trip to Joplin, Mo. Sgt. Perry and Anna Trego took between 11-13 students on the trip as part of a program to help rebuild Joplin following the 2011 tornado. The students split into two groups and worked on two houses during two days of Spring Break. "It was a great experience for the kids. They learned a lot and enjoyed it," Sgt. Perry said.
Principals Terri Clayton, Matt Wright gave the board school updates. Clayton said Marked Tree Elementary has purchased 60 iPads to use in class and is in the process of getting 60 laptops. A technology committee has added several laptops and nooks to the library. She said benchmarks are finished and teachers are preparing for Common Core testing.
Wright said the high school is currently in testing season. Twenty band students tried out for Honor Ensemble, and all 20 made it. The FBLA competed in state competition. Two of those students were invited to compete at the national level. Twenty nooks are now available in the library, and more laptops have been purchased, bringing the school total to 240. Wright said the school is partnering with ASU next year to allow students to earn up to 27 college credits.
In other business, the board:
*heard from April Williams, who asked the board to consider constructing new buildings on campus.
*heard an update on the new grab and go high school breakfast program. Superintendent Annesa Thompson said the free, bagged breakfast program had seen a 30-40% increase in student participation. She recommended continuing the program.
*approved personnel policy updates as recommended by the School Board Association. Changes include extending the ban on weapons on campus to include faculty as well as students, though faculty are allowed to carry pocket knives and up to 150cc of mace. The other change is if a student is removed from class two times in a nine week period, the teacher must meet with the parent and principal before the student can return to class.
*approved allowing Thompson to move forward and see the costs involved in several school repair and improvement projects.
*authorized Thompson to move forward in purchasing a new mower for $7,900 with $3,500 trade-in on the school's old mower.
*authorized Thompson to move forward in accepting a lawn service bid.
*approved a required JROTC cost of living salary increase.
*accepted the resignations of Denishia Buchanan and Sara Garland.
*approved the hire of Zachary Anglin, Kylie Leblanc, Zachary Diebel, Austin Chlapecka, Jethro Antjuan, and Pamela Sain for the 2013-2014 school year.