Ryan Vaughn talks weather with Trumann Lions
Saturday, May 4, 2013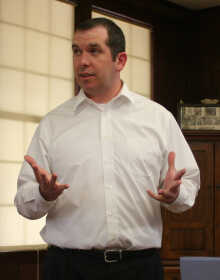 KAIT's chief meteorologist Ryan Vaughn visited the Trumann Lions Club last week as their guest speaker.
Vaughn said he had always loved weather since he was a kid. He realized when a meteorologist spoke to his third grade class that he could do what he loved for a living. He graduated from Western Kentucky University and has been in meteorology for 14 years.
He gave the club a look at some of the graphs and data he has to analyze to come up with weather and talked about the studio. The old storm center took up 10% of the studio space, so when the studio was remodeled for high definition, Vaughn was asked what his ideal storm center would be. He asked that it be big with more monitors and work stations. Now, the storm center takes up 75% of the studio. "We're very proud of the storm center. It's not only nice and pretty but operational," he said.
He also talked about the Storm Tracker vehicle, which goes out to storms with one driver and one person on the computer tracking the storm. "Warning people there is a storm is important, but warning people there isn't a storm is important too," Vaughn said.
Vaughn posts more technical graphs on his blog at ryansmorningblog.blogspot.com.
A new feature Vaughn is working on is the fishing forecast. He said he was told feeding activity in fish was greatly affected by barometric pressure, so he has been playing around using barometric pressure data to predict good fishing times. He said the fishing forecast is still in its early stages, so he is looking for feedback from people to see how accurate it is.