Pearce becomes Advocate for Alzheimer's
Tuesday, May 7, 2013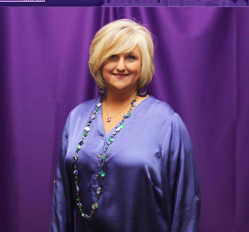 Washington, D.C., held its 25th annual Alzheimer's Association Advocacy Forum last week, where many from all over the nation came to be educating, share and speak directly with elected officials to take action on issues related to Alzheimer's. Among the many, Sherry Pearce stood for the cause that she has worked so diligently to become a part of.
Pearce is from Harrisburg, and she serves as the Community Outreach and Admissions Coordinator for Three Rivers Health and Rehabilitation. She began her interest in Alzheimer's at Three Rivers when an elderly lady searched for her parents on a daily basis.
"I never knew how to handle that," said Pearce. "It really just broke my heart to see her go through that heartache everyday."
Pearce began learning more and more about Alzheimer's to better serve her patients, and eventually worked her way up to a congressional working level on the disease. She served as Alzheimer's Association Ambassador for the first congressional district in Arkansas. Her job as ambassador included reporting all Alzheimer's activity to Congressman Rick Crawford.
At the Alzheimer's Association Advocacy Forum, Pearce became an advocate for Alzheimer's, which is a step above ambassadors.
"I learned a lot while I was there, and I'm ready to keep doing all I can for this disease," said Pearce.
Some key points that Pearce mentioned learning and discussing during her trip in Washington included the NAPA Plan and the Hope for Alzheimer's Act. The NAPA, National Alzheimer's Project, Plan includes millions of dollars of spending to go toward Alzheimer's research, education, outreach and caregiver support.
"It's one of the most expensive diseases, and it's expected to rise," said Pearce. "If we don't do something now, then we will have to do something later."
According to Pearce, the Hope for Alzheimer's Act is meant to create packaging services aimed at accurately and timely diagnosing the disease. The statistics of Alzheimer's show that one in nine seniors have the disease but half of those people are not aware of it.
In Washington, Pearce heard from many all over the country who have dealt with Alzheimer's in one way or another. Everyone representing the fight against the disease wore a purple sash.
"We flooded congress with purple, and I felt really empowered going to Washington and lobbying for Alzheimer's on a congressional level," said Pearce.
She added she was honored and privileged to work for Three Rivers and Elder Outreach, which has allowed her to work so persistently with Alzheimer's.
Anyone wanting more information on Alzheimer's involvement or how to become an advocate may contact Sherry Pearce at (870) 358-2432 or go to alz.org.