MTHS shows progress with New Tech
Monday, May 6, 2013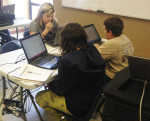 Marked Tree High School has implemented New Tech, a program meant to transform schools into innovative learning environments with the use of technology, for the first year with success. The district began New Tech by handing out computers to students in grades seventh and eighth. They plan to further modify the school by providing ninth and tenth grades with computers in the upcoming school year.
"We have been very pleased with the experience," said Marked Tree High School Principal Matt Wright. "No system is perfect, and I think anytime you do an implementation on this scale, it tends to get messy."
He added he was extremely impressed with the MTHS educators' work with New Tech and project-based learning. According to Wright, the biggest misconception with the program is that the teachers will no longer be teaching. The program is meant to be student-led learning; however, Wright said many of the New Tech teachers are working harder than they ever have before.
"The level of student learning never exceeds the level of professional learning," said Wright. "I could not ask for a better group of teachers."
The program has been a huge shift from the traditional model of teaching, causing the seventh and eighth grade teachers to need to adapt to a completely different mind-set. The principal said MTHS teachers have done just that by continuing to learn about New Tech and new ways to utilize project-based learning.
"There is always room for improvement, and I believe everything will only get better," said Wright. "It's important to develop the mindset that we are becoming a great school instead of just being a school."
Wright described the New Tech implementation as one of the biggest professional challenges himself and other teachers have had to face in their career.
The seventh and eighth grade students have their own opinions on the program that is showing through their work efforts. Recently, the eighth grade class of MTHS held a Student Voice Rally that began with project-based learning in one of their integrated classrooms. Along with the rally, the students created manifestos and constitutions in which they mentioned what they like and dislike about New Tech.
"Their efforts in the rally really demonstrate a great example of how our students are using the technology and project-based learning to its fullest potential," said Wright.
A project that the seventh grade Humanities' class is currently working on involves developing documentaries that will feature images, interviews, and artifacts from Marked Tree and surrounding communities in the early twentieth century.
To go along with these projects, a recent student culture survey was conducted on students at MTHS that showed 91 percent of seventh and eighth grade students having positive learning experiences through project-based learning.
"With it being the first year for this program, I think we have done well," said Wright. "We are going to continue to work on instructional strategies and continually improving."