Wildcats season ends with loss at district
Friday, May 3, 2013
Trumann got out to a 4-0 lead after four innings of play, lost the lead, then a valiant effort came up short as the Wildcats fell to Pocahontas 8-6 in the first round of the 4A-3 district tournament at Westside last Thursday.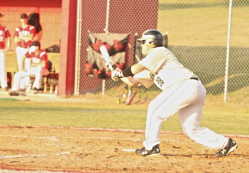 Trumann threatened to score in the bottom of the first as Cameron Jones walked and advanced to third after stealing second base and a passed ball. Jay-Ryan Woods walked after a Taylor Wilson strikeout and advanced to second base. The runners were left stranded as Josh Evans and Nathan Maxwell both grounded out. Trumann pushed a run across in the bottom of the second as Dillin Vincent walked to start things off. Ashton Jones laid down a nice sacrifice bunt to get Vincent to second. Justion Liles drew a one-out walk. Dylan Qualls plated Vincent with a single as Liles advanced to third and Qualls to second on the throw home. They were both left stranded as Cameron Jones and Wilson both grounded out to end the inning with Trumann up 1-0.
The Redskins got got two runners on with one out in the top of the third but a double play ended their half of the inning. The Wildcats tacked on a run in the bottom of third as Woods singled to start things off. Evans drew a walk before Maxwell scored Woods with a single. Maxwell was went to second as the throw to try to get Evans at third was late. Evans was out at the plate as he tried to score on a ground ball to third. Trumann's next two batters were retired leaving two Wildcats on base in scoring position for the third inning in a row.
Maxwell retired the Pocahontas side in order in the top of the fourth as the Wildcats added two more runs in the bottom half of the inning. Cameron Jones drew a one-out walk followed by a single from Wilson. Woods walked to load the bases for the Wildcats. Jones scored a walk by Evans and Wilson scored on a fielder's choice grounder from Maxwell. Vincent hit a fielder's choice grounder with the bases loaded that forced Maxwell out at second to end the inning with Trumann up 4-0.
Pocahontas finally figured Maxwell out in the top of fifth as they plated five runs on four hits to go up 5-4. Maxwell was replaced by Cameron Jones on the mound. Jones struck out the next two batters to get out of the inning.
The sixth inning saw both teams go up three up three down to go to the seventh with the score 5-4 Redskins.
Pocahontas added three more runs in the top of the seventh on a hit batter and two hits to go up 8-4. Trumann tried to rally in the bottom of the seventh as Ashton Jones reached second on a two-out error by the right fielder. Jones went to third on a wild pitch and scored on a single by Liles. Qualls reached on an error and Cameron Jones walked to load the bases. Liles scored on a walk by Wilson to cut the lead to 8-6. Woods grounded into a fielder's choice to end the game.
Wilson and Liles both had two hits, a run scored and a RBI for the Wildcats. Maxwell had a hit and two RBIs as Woods and Qualls both had a hit and RBI.
Maxwell took the loss for Trumann giving up five runs on seven hits in 4 1/3 innings. He walked one and struck out two. Cameron Jones pitched 2 2/3 innings allowing three runs on two hits with no walks, three strikeouts and one hit batsman.