Lady 'Cats win opener
Friday, May 3, 2013
Trumann opened district play this past Monday after mother nature rained out games last week in Pocahontas. Gosnell scored in the first inning and held that lead until the six before the Lady Wildcats scored one in the bottom of the fifth to tie and then another in the bottom of the seventh on Kelly Guthrie's walk-off single to win 2-1.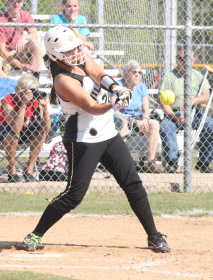 Gosnell's leadoff batter singled and came around to score on a two-out triple to right field putting the Lady Pirates up 1-0. Guthrie and Hannah Walters had back to back two-out singles in the bottom of the first but were left stranded. Gosnell got a runner to third with one out in the top of the second but couldn't get plate her. Trumann was retired in order in the the bottom half to keep the score at 1-0.
Both teams left a runner stranded in the third inning and both teams went three up and three down in the fourth as the score stayed 1-0 Lady Pirates.
Trumann finally got on the board in the bottom of the fifth as Julia Jones doubled to start off the inning. Megan McGowan laid down a sacrifice bunt to move pinch runner Courtney Toddy to second base. Toddy scored when the pitcher overthrew first on Morgan Taylor's grounder that allowed Taylor to go all the way to third base. Taylor was left stranded as the next two batters were retired to make the score 1-1.
Trumann loaded the bases with no outs in the bottom of the sixth thanks to two Gosnell errors and a hit batsman but left them all on base as the Lady Pirate's pitcher induced two pop ups and a line out to leave the score 1-1 going to the final inning.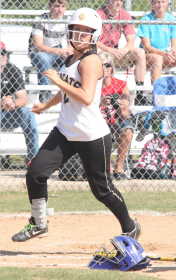 The Lady Pirates went three up three down in the top of the seventh. Taylor singled to lead off the bottom half of the inning for Trumann. Taelor Gartman beat out a bunt to put runners on first and second. Taylor and Gartman pulled off a sweet double steal to put runners on second and third. Guthrie then delivered her game winning hit to send the Lady Wildcats on to round two.
Guthrie led the Lady Wildcats with two hits and a RBI. Gartman had two hits and a stolen base as Taylor had a hit, run scored and a stolen base. Toddy also scored a run.
Walters got the win going all five innings allowing one run on four hits. She walked one and struck out one.