Richard Franklin Fleming
Tuesday, May 7, 2013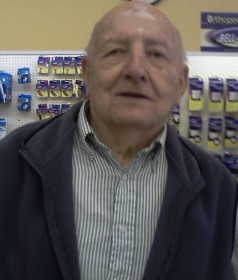 Richard Franklin Fleming went home to be with his Lord on April 17, 2013, following a brief illness. He was born in Jonesboro, Arkansas on July 2, 1924, to James Everett Fleming, Sr. and Nola Belle Ashby Fleming. He was preceded in death by his parents, and siblings James Everett Fleming, Jr. and Mary Frances Fleming Murray. He leaves his loving wife of 58 years, Mattie Edna Kelly Fleming, one son, Trent Fleming (Edie,) and five grandchildren; Drew, Parker, Camille, Luke, and Hank, who adored him.
Richard proudly served his country in the Pacific during World War II, and returned home to a lifetime of serving customers at John-Frank Drugstore in Marked Tree, where he finally retired, after 66 years, in the fall of 2012. He loved Marked Tree, and its people. He was active as a Scout leader for 20 years, producing a number of Eagle Scouts, and receiving the Silver Beaver award for his contributions to the Eastern Arkansas Area Council. He coached little league baseball, and was a strong supporter of Marked Tree Indian Football, and marching band, attending hundreds of games with his lifelong friend, Bob Brunner. Richard was a member of the First United Methodist Church in Marked Tree, serving as an usher, and in later years, helping to lead and teach the men's class. He took great comfort in the scriptures, and while he will be missed, his family is at peace in the knowledge that he is at rest with our Savior.
A Memorial Service was held April 20, 2013, at the First United Methodist Church in Marked Tree. Reverend Ron Williams will officiate, assisted by Reverend Ed Wyers.