Trenton E. Wright
Tuesday, May 7, 2013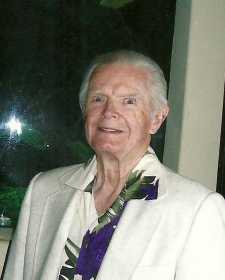 Trenton E. Wright, 84, of Marked Tree went to be with the Lord April 26, 2013. He grew up in Tupelo, Mississippi then moved to Upper Saddle River, New Jersey after retiring as a colonel in the Army. Later he worked and retired from the IRS. After retirement, he started repairing clocks and watches as a hobby. On October 13, 2012 he married his high school sweetheart, Edna Holt, after being separated for 61 years. They had just recently celebrated their marriage by honeymooning in Hawaii where they had the time of their lives. Mr. Trent, as the grandkids liked to call him, was loved endlessly by all of Edna's side of the family. Survivors include one son, Trenton Jr., and one daughter, Christine ; one sister, Dorothy Shannon of Tupelo; and three step-daughters, Diana, Nancy and Cathy. He has one granddaughter, Amanda, and one grandson, Trenton III; six step-grandchildren and nine step-great grandchildren. Although Trenton grew up in Baptist faith, he enjoyed going to the Church of God with Edna. It did not take long to see that Edna and Trenton deeply loved and cared for each other. Even though time was short with Mr. Trent, the family is forever grateful for the time God blessed them with. They know they will see Mr. Trent in Heaven. The family wishes to thank everyone for their thoughts and prayers and especially the caring staff at Hometown Nursing during this time. They feel so blessed to be surrounded by such good Christ like people. In honor of Mr. Trent and his love and passion for singing hymns, they would like everyone to join them in singing his favorite one, Amazing Grace, as the good times are remembered.
Mr. Wright is also survived by two former sisters in law and their families; nieces and nephews and many friends in the Upper Saddle River area.
HE only takes the best. God saw Trent was getting very tired and rest was not to be, so He just put His arms around Trent and whispered "Come to Me". With tear filled yes his loved ones watched him fade away. Although they loved Trent deeply they could not make him stay. His golden heart stopped beating and his hard working hands were put to rest. God broke our hearts to prove to us that he only takes the best.
A special memorial service was held at the Church of God.