James Cavenar
Tuesday, May 7, 2013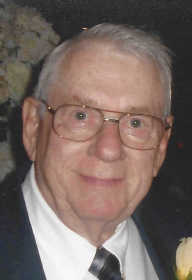 JONESBORO - Mr. James Lyndell Cavenar, 85, of Jonesboro died Tuesday, April 30, 2013 at NEA Baptist Hospital in Jonesboro. He was born in St. Louis, MO., and was formerly of Arnold, MO., before moving to Jonesboro 11 years ago. He was a retired supervisor with American Can Company, a U.S. Navy veteran of World War II and Korean War, a member of American Legion Post 21, a lifetime member of VFW and was of the Methodist faith. Mr. Cavenar was preceded in death by one son-in-law, Gary Goeke; two grandchildren, David Cavenar, Jr., and Shaun Cavenar; and his parents, James and Vera Maude Mount Cavenar.
He is survived by his wife of 21 years, Brenda Peeler Cavenar of the home; two daughters, Deborah Goeke of St. Louis, Mo and Denise Turner of Dover, Ark.; five sons, Barry (Judy) Cavenar of Luling, LA, Roger (Cheryl) Cavenar of Lake Wappapello, MO, David Cavenar of House Springs, MO, Brian (Lisa) Cavenar of Washington, MO and Kevin Cavenar of Menard, Ill.; 11 grandchildren; 19 great-grandchildren; several In laws, uncles, aunts, cousins, nephews and nieces.
Graveside services were May 4, 2013 at Jonesboro Memorial Park Cemetery in Jonesboro followed by burial. Thompson Funeral Home of Trumann was in charge.
Pallbearers were Terry Peeler, Casey Peeler, Denise Turner, Kevin Meyer, B.J. Cavenar and Monte Arnold.
In lieu of flowers a donation can be made to American Lung Association of Arkansas, 211 Natural Resources Dr, Little Rock, AR 72205-9869.
An on online register book can be signed at www.thompsonfuneralhome.net.